April 1, 2019
/
/
Comments Off

on Is your mom a ninja?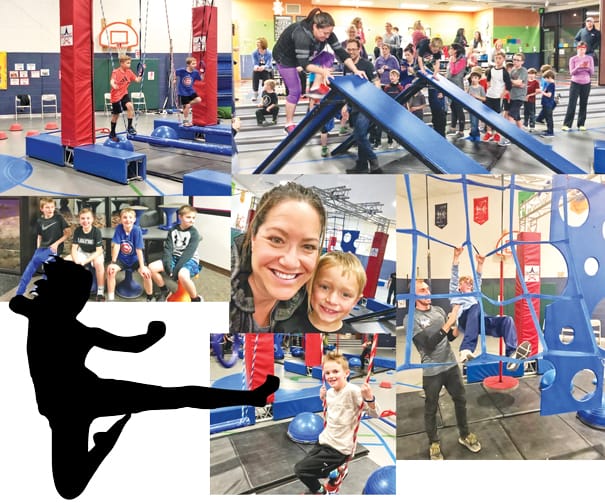 Article by Celeste McNeil; courtesy photos
Nearly 60 moms and 75 sons took the opportunity to test their ninja prowess at Buffalo Ridge Elementary school's (BRE) mother-son ninja night. Ninja Nation, sponsored by BRE's before and after school (BASE) program, brought in the equipment including scaffolding, trusses, ropes and other custom challenges. Paul Brandt, BASE manager said "This was the first time for us to work with the Ninja Nation team. I was blown away by the size of the ninja course that they put together."
The school gym was transformed into an American Ninja Warrior type course. The main hallway was filled with additional obstacles intended to keep mothers and sons moving. Participants climbed over, under, around and through cargo nets, ropes with rings, balance beams and more. They challenged a partner on the double ninja course and raced through agility and strength obstacles. The double course featured one side with more difficult challenges. The dueling difficulty levels catered to the ability and speed of both children and adults.
Everett C., a fourth-grade student, enjoyed the evening of physical activity and hanging out with friends. "My favorite was jumping the big poles in the hall" he said. Two sizes of track hurdles were set up as part of the hallway obstacle course. His mom, Monica said "I loved how well he slept that night!" All parents can appreciate their children's exhaustion after fun physical exercise!
Brandt, pleased with the evening's turn out, said, "I want to thank all the parents and students and staff who came out to support the BRE BASE program." It was fun and physical…perfect entertainment for active boys. The moms enjoyed the obstacles and visiting with one another too.
When asked 'is your mom a ninja?' Everett unequivocally answered "Yes!"