Join in saving a life at the Castle Pines blood drive
August 1, 2017
/
/
Comments Off

on Join in saving a life at the Castle Pines blood drive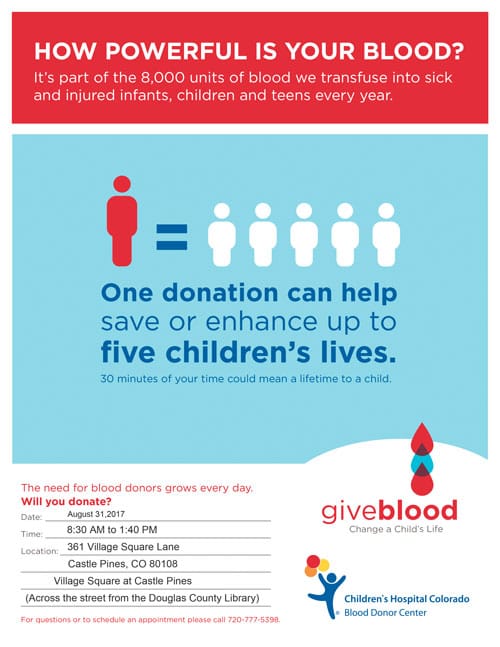 By Terri Wiebold
Have you had any tattoos or body piercings within the past 12 months? Have you spent three months or more in the United Kingdom from 1980 to present? Have you traveled outside the United States within the past 12 months? Are you currently under a doctor's care for surgery or an illness? Are you taking antibiotics for an active infection? Have you delivered a baby within the past six weeks? Do you weigh less than 110 pounds? Are you under 17 years of age? Do you feel unwell?
These just a few of the questions that will be asked prior to participating in a blood drive like the one coming to Castle Pines on August 31 to benefit Children's Hospital Colorado.
Owner and Manager of Village Square at Castle Pines, Chuck Lowen, is sponsoring a mobile blood drive in the parking lot in front of the Douglas County Libraries – Castle Pines (361 Village Square Lane) on Thursday, August 31 from 8:30 a.m. to 1:40 p.m.
"My wife and I wanted to do something for children since we have five grandkids who are very important in our lives," said Lowen. "That is why we support Children's Hospital."
There are approximately 25 slots available for appointment reservations and walk-ins are only accepted if there is an opening. Be sure to eat a full meal before coming in for your donation.
To learn more or to schedule an appointment, visit donate4kids@childrenscolorado.org or call 720-777-5398.