KnightsBridge neighbors initiate a chain of survival
August 1, 2016
/
/
Comments Off

on KnightsBridge neighbors initiate a chain of survival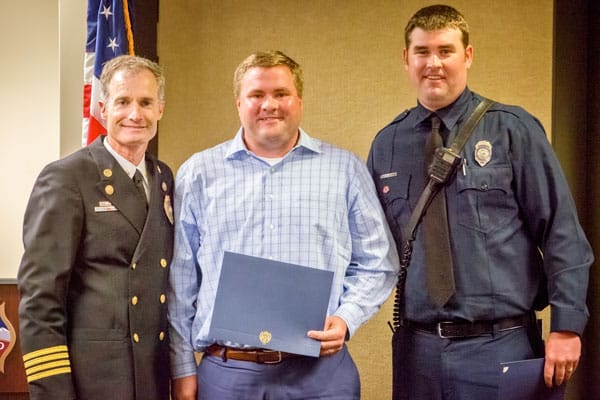 South Metro Fire Rescue Deputy Chief Mike Dell'Orfano (left) presented KnightsBridge residents Dean Nickell (center) and Pierce Jacoway (right) with a Citizen Award on July 6 for performing CPR on a neighbor in April.


By Kathy Fallert; photo courtesy of South Metro Fire Rescue
A few months ago, two Castle Pines residents performed CPR on a neighbor, allowing that neighbor to be taken to the hospital and treated. The efforts of Dean Nickell and Pierce Jacoway did not go unnoticed as they were presented with a South Metro Fire Rescue (SMFR) Citizen Award on July 6.
Einar Jenson, life safety educator with SMFR recounted, "These two KnightsBridge residents stepped in to perform CPR on their neighbor to save her life, and her life was prolonged to the extent that rescuers were able to get her transported to the hospital. We gave them an award for recognizing that a neighbor wasn't breathing and had no pulse and that they acted, providing CPR in advance of Medic 36 and Engine 36 arriving."
Nickell arrived at the neighbor's house first and began CPR. Jacoway was just returning home from the park when Nickell's wife came to get him. Jacoway, a trained firefighter and paramedic himself, then took over the CPR until SMFR arrived and the neighbor was able to be transported to the hospital.
"It's so important for everyone to know CPR," commented Jacoway. "You just don't know when you will be in a situation that requires this kind of help, and you can potentially save someone else's life."
Jenson remarked, "The actions of Dean and Pierce helped give the patient the best chance for survival – in coordination with a call to 911, South Metro Fire Rescue personnel, and the nurses, technicians and doctors at the hospital. They initiated the chain of survival which is so important." Sadly, the neighbor passed away several days later due to circumstances beyond anyone's control.
For more information about SMFR or to register for a CPR class, visit their website at www.southmetro.org.