Library committee recognized for community contribution
October 1, 2011
/
/
Comments Off

on Library committee recognized for community contribution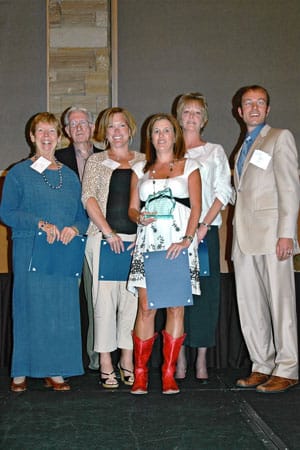 Volunteers for the Castle Pines Library Campaign were honored by the Denver chapter of DOVIA (Directors of Volunteers in Agencies) for their volunteer service. The committee, from left: Vicky Kellen, Warren Lynge, Carla Kenny, Linda Day, and Sharon Kollmar with Matt Gray, Vice President of DOVIA.

by Lisa Crockett with photos by Lisa Crockett
The group leading the charge to found, and keep, a library in Castle Pines was recognized by the Denver chapter of DOVIA (Directors of Volunteers in Agencies) at their annual "We Count on You" awards luncheon. The event, which was held at the Wildlife Experience and hosted by local celebrity newscaster Mitch Jelniker, honored outstanding volunteers from throughout the Denver Metro area. The Library Campaign Committee was recognized as the "Volunteer Group of the Year."
"This was a wonderful opportunity to recognize this amazing group of volunteers who has impacted our community in such a positive way," said Douglas County Libraries Volunteer Coordinator Sarah Tweed. "Their energy, dedication, and ability to include the community in their campaign is remarkable. We are so proud and excited that they won the DOVIA award and invite everyone to come see it on display at the library."
The outstanding contributions of Warren Lynge, Vicky Kellen, Carla Kenny, Linda Day and Sharon Kollmar were honored at the event, including a brief mention of the library's history and current fundraising campaign.
"Volunteers, like anyone, need a hug every once in a while, and group hugs are even better," said Lynge. "This party was like a group hug. Further, I was amazed at the hours these people have given, and the years they have given. How fortunate we are to have them."
The group continues to work to raise money to fund operation of the library over the course of the next three years. Here are some ways to contribute to the Library's "Let's Keep a Good Thing Going" Campaign:
*Sponsor the library for a day. Visit the Castle Pines Chamber of Commerce website for details at www.castlepineschamber.com and click on the "Make it Your Day" link. Individuals can buy a $100 sponsorship, which includes a picture or logo and photos of your choice displayed in a video presentation which runs all day at the library, a listing as a 2012 library sponsor, and a thank-you letter from Douglas County Libraries Director Jamie LaRue. Sponsorships are also available for groups at varying levels with varying benefits. Visit the chamber website for details.
*Pancake breakfast. On January 21, a pancake breakfast will be held to benefit the library; more details in the coming months.
*Restaurant nights. After four successful restaurant nights in late summer, the Campaign Committee is planning several restaurant nights this winter. Look for details in The Castle Pines Connection when they are announced.
The library also accepts donations online, visit: DouglasCountyLibraries.org; click "Donate it."