LifeSpark transforms the cancer experience through energy therapies
December 1, 2016
/
/
Comments Off

on LifeSpark transforms the cancer experience through energy therapies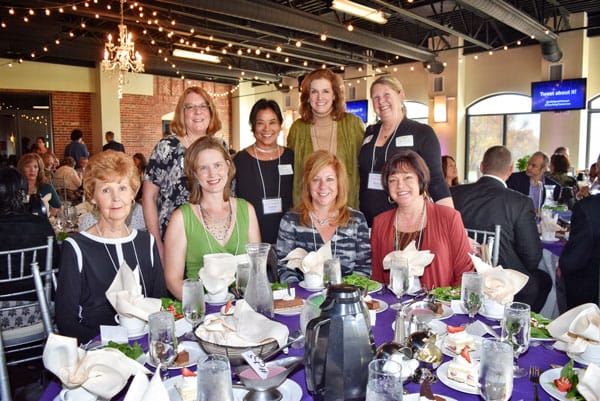 Lorrie Ball, volunteer grant writer for LifeSpark, was joined by Castle Pines friends and family at their "Touching Tomorrow" fundraiser luncheon. Pictured from left to right, front row: Helen Ball, Amy Ball, Donna Riley, and Ellen O'Connor; back row: Susan McPherson, Donna Galloway, Lorrie Ball and Marcia Pinkstaff.

Article and photo by Lynn Zahorik
LifeSpark Cancer Resources, the nonprofit provider of Reiki and Healing Touch wellness therapies, held its annual fundraiser luncheon "Touching Tomorrow" on October 28 at the Wellshire Event Center in Denver. More than 180 people attended the fall affair, which raised $44,484. The featured speaker was George Karl, former Denver Nuggets coach and two-time cancer survivor who shared the importance of healthy lifestyles and the mental game of cancer. Other speakers spoke of the value of integrative care to save money and improve outcomes. The funds raised through this fall campaign will be used to provide gentle Reiki and Healing Touch sessions at no charge for nearly 100 people.
Castle Pines resident Lorrie Ball has been associated with LifeSpark for more than a year as a volunteer grant writer. She handles all corporate and foundation/charitable trust grant requests, as well as serves on the fund development committee. Led by merely three employees, LifeSpark is volunteer-based and operates across the Denver Metro area. Ball is proud to be a part of the pool of 200-plus volunteers who are committed to the growth and success of LifeSpark. "I truly believe that there is a mind-body connection and that Reiki and Healing Touch have a tremendous impact by decreasing anxiety and depression and helping the individual have a greater sense of peace while they are battling cancer," declared Ball.
LifeSpark Cancer Resources is dedicated to transforming the challenging cancer experience. In the last 12 months, they have doubled the number of people they have been able to serve through energy therapies. Remarkably, LifeSpark offers its Reiki and Healing Touch services at no cost to cancer patients and counts on donations to be able to continue its services. Their spring gala, "Diamonds and Denim" will be on March 2, 2017 at Stampede nightclub in Aurora. To learn more about LifeSpark or the upcoming fundraiser visit www.LifeSparkNow.org.