Listen up: Life Kit by NPR podcast
January 1, 2020
/
/
Comments Off

on Listen up: Life Kit by NPR podcast
By Lisa Nicklanovich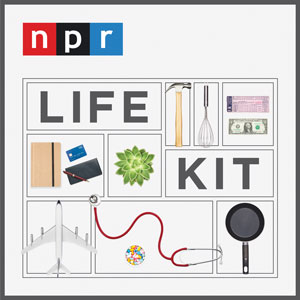 New year, new you, right? Whether you are the kind of person who makes New Year's resolutions or not, the new year is a fresh start. Some of us may see the new year as an opportunity to work on losing the few pounds that crept on during the holidays, or to get a better handle on the finances after all the holiday spending. A friend of mine said January is her chance to try and get more rest. In all these cases and more, NPR's Life Kit podcast can help us "do life better."
Each episode of Life Kit is short; most are ten to twenty minutes in length. Experts weigh in on a great variety of topics and provide a few takeaways during the episode. Like bullet points, the handful of takeaways are summed up for the listener at the end of the episode, wrapping up the content like a short class.
The episodes vary greatly in content, so browse for what interests you. For healthier eating, take a listen to the episode "A saner mindset for weight loss" or "Trust your gut: A beginner's guide to intuitive eating." If finances are on your mind, try "Be the master of your budget" or "Seven strategies for digging out of debt." Want to get a better night's sleep? Try "Don't count sheep: Better bedtime rituals" or "Do this today to sleep well tonight."
Some episodes may appeal more specifically to 20-somethings, to new parents, or to retirees. Some episodes might be helpful to any age at any stage of life, like those about traveling, friendships, screen-time and paperwork.
I like how the podcast uses examples of regular people who have tried the expert recommended strategies in each episode. The listener gets to hear how the strategy, whether it is creating a budget, making a new friend or sleeping better worked for them. The stories are often funny and surprising and it makes for better advice than just "do this." I know I am more likely to try some of the tips after hearing how it went for other people.
We all need a little help or encouragement sometimes, and the Life Kit podcast gives us tips and tricks to try as we embark on a fresh new year.