Local athlete Nicole Jordan competes in Ironman 70.3 World Championship
January 1, 2020
/
/
Comments Off

on Local athlete Nicole Jordan competes in Ironman 70.3 World Championship
By Carin R. Kirkegaard; photos courtesy of the Jordan family
Last September, college athlete and Castle Pines resident Nicole Jordan found herself figuring out how to ship a bike to Europe. She had qualified to compete in the Ironman 70.3 World Championship.
Since her days growing up in Castle Pines, Jordan has been a swimmer. She competed on the local summer swim team, the Castle Crocs, club teams and for Rock Canyon High School's (RCHS) girls swim team. It was swimming that led her to California Polytechnic State University, where she swam with the team for two years.
It was when she was running track at RCHS that the idea to compete as a triathlete was planted. As a four-year varsity conference runner, her track coach suggested she try triathlons. Taking her high school coach's words to heart, Jordan decided to move from swimming to triathlon.
"Transitioning from swimming to triathlon was very exciting for me. I had been competitively swimming for over 10 years, and while I still love to swim, I like how there are two other sports that I get to choose from to keep it interesting and challenging," she said. "When I joined Cal Poly Tri I was extremely intimidated. However, the team welcomed, inspired and encouraged me, making me feel validated as an athlete and a person," Jordan continued.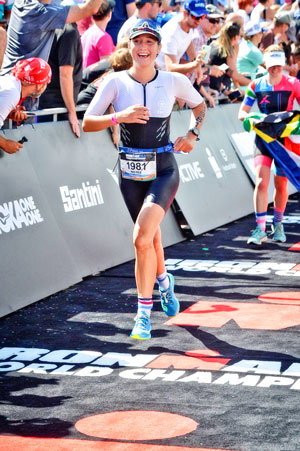 Swimming is Jordan's best leg of the race. She's often first out of the water, gaining precious minutes on her competitors. The run is her next best race segment. Although she has been plagued with various injuries to her hips, feet and knees causing her to slow her pace in some races. The bike is where Jordan has the biggest opportunity for time improvement.
"Competing at Worlds this summer was such an amazing experience. It was pretty incredible to see the best of the best from all over the world racing the same course as I was. Being surrounded by so many amazing athletes was humbling and showed me that there is so much more I want to achieve," said Jordan.
Before she graduates this spring with a degree in biology, Jordan has plans to finish with a podium spot at the USA Triathlon Collegiate Club National Championships. Long term, Jordan has visions of finishing a full distance Ironman race.