Love your lunch: ideas for back to school season
August 1, 2017
/
/
Comments Off

on Love your lunch: ideas for back to school season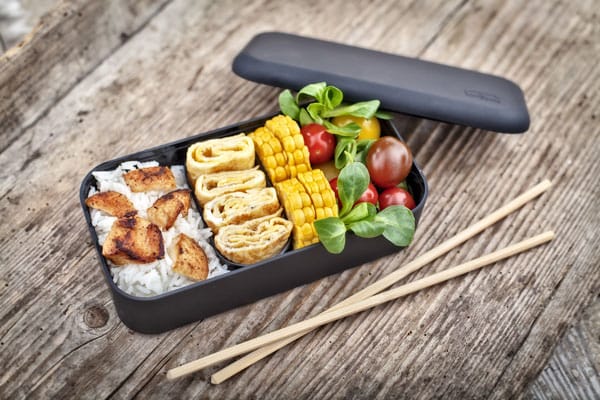 A bento box lunch is both tasty, beautiful and anything but boring.
By Lisa Crockett
It hardly seems possible, but this month school is back in session. Laid-back meal schedules and snacking with no particular agenda is out, and structured mealtimes are back in. It's not all bad news. A little planning and creativity can solve the ho-hum of school lunchtime. A few supplies are handy in the pursuit of lunchtime bliss: an old-school Thermos along with some plastic "bento" boxes (both available at local discount stores like Target or online at Amazon and other retailers) will make packing things up easy and effective. If you're sending hot food in a Thermos, a quick rinse with very hot water before you fill it will ensure that lunch will stay warm until lunchtime. Instead of peanut butter and jelly on white, try a few of these beauties and fall in love with lunch again.


Great cold:
Fill a bento box with a generous dollop of hummus in one section, a stack of pita wedges in another section and a handful of baby carrots or sugar snap peas.
Go sophisticated and pair a creamy wedge of Brie with some fancy crackers – think table water crackers – or small slices of baguette. Toss in a bunch of grapes and a bottle of water, and then imagine you're eating lunch on a sidewalk in Paris instead of a lunchroom in Castle Pines.
Wrap it up! Many things taste delicious in a tortilla, and when you roll them up and slice them into bite-sized pieces they're visually appealing too. Spread a tortilla with basil pesto, and then layer on provolone and your favorite salty cold cuts for an Italian-influenced lunch break. Classic Reuben ingredients – pastrami, sauerkraut and mustard – make a tasty wrap. For a healthy take, chop your favorite salad ingredients like bell pepper, spinach and tomato, then add some beans or olives to give it some substance and drizzle your favorite salad dressing.
Bagel and cream cheese. It's classic, simple and delicious.
Cold noodles. Toss plain leftover spaghetti with your favorite teriyaki sauce, and then add chopped, cooked chicken and diced cucumber.
Great hot:
Leftovers. If you loved it last night for dinner, you'll love it again today for lunch. Warm it (whatever "it" is) gently in the microwave and put it in a Thermos for a warm lunch with no prep work.
Soup or chili. Homemade is superb, but never underestimate the power of good old Campbell's tomato soup. Don't forget to include Goldfish crackers on the side for topping.
Warm noodles. Warm up plain leftover noodles and toss with a tablespoon or so of bottled pesto sauce. You can also add chopped chicken and fresh-diced tomato.
Nacho cheese. While this lunch is unlikely to win you any awards for nutrition, it's a fun way to keep lunch from getting boring. Warm purchased nacho cheese sauce and pour into a Thermos, then pack chips (tortilla chips are generally whole-grain, so perhaps that balances out the cheese?) A side of beans and rice will round out this meal.