Master Association's "Meet the Candidate" Forum a Huge Success
December 1, 2006
/
/
Comments Off

on Master Association's "Meet the Candidate" Forum a Huge Success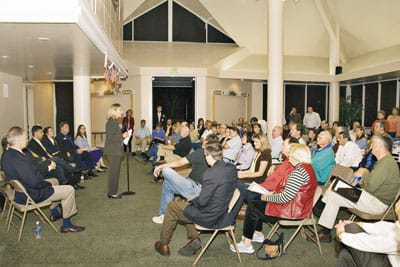 by Lisa Crockett
In a scene reminiscent of an old-fashioned town hall, Castle Pines North (CPN) hosted several candidates for public office at its first-ever "Meet the Candidates" forum. The event was held at the CPN Community Center and boasted an attendance of roughly 85 people from all over Douglas County. Residents were allowed to ask questions of the candidates and hear answers from both political parties.
Questions ran the gamut from immigration policy to road rage, but education-related issues largely dominated the evening's discussion.
"It's wonderful to see such strong participation from the audience," said CPN Master Association President Maureen Shul. "Judging from the turnout we had, it's obvious that people are hungry to learn more about our candidates for public office."
Shul has plans to continue the tradition of hosting candidates – not only when they are running for office, but after they are elected as well. She has invited all of them to return to a similar forum after the election to answer questions from CPN constituents. "Our elected officials are responsible to meet with and know those they represent," she said. "This forum is a way for them to do that."

Who Attended the Candidate Forum?
The following candidates participated in the CPN Master Association's Meet the Candidate Forum:
Congressional Candidates for District 6:
Bill Winter (D), and Ted Harvey (R), representing Tom Tancredo.
Gubernatorial Candidates:
Barbara O'Brien candidate for Lieutenant Governor (D), representing Bill Ritter, and Frank McNulty (R), representing Bob Beauprez.
Candidates for State Representative, District 45:
Victor Mitchell (R), and Linda Constantine (D).
Candidates for Douglas County Sheriff:
David Weaver (R), and Laura Harper O'Donnell (D).
Special thanks to Maureen Shul for coordinating this event for the CPN Master Association. View 2006 election results at www.cpnhoa.org.