Meet Carol Langley-Finnegan
August 1, 2008
/
/
Comments Off

on Meet Carol Langley-Finnegan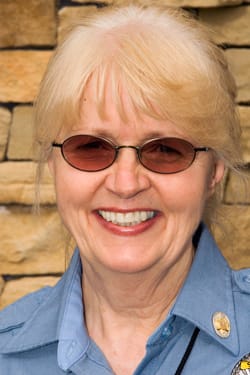 CPN Safety Task Force Chair
Carol Langley-Finnegan
by Lisa Crockett
Nearly everyone knows someone who seems to accomplish the impossible. Someone who can take the same number of hours in the day as everyone else and do three times as much. And anyone who is a friend to Carol Langley-Finnegan knows that she is that kind of person; the kind of friend who will require your best efforts and energy to even attempt to keep up.
Langley-Finnegan has served in her neighborhood HOA in various capacities since she and her husband, Philip, moved to The Retreat seven years ago from Willow Creek. She also serves as the Retreat delegate to the Master Association and as the chair of CPN's Safety Task Force.
"After we moved in, I got involved right away. The neighbors have become good friends," said Langley-Finnegan. "I love living and working in our community."
"I was tracking the crime statistics for CPN, and was recruited to chair the safety committee as part of the Master Association," said Langley-Finnegan. "The city has officially absorbed that function and expanded its focus into the new Safety Task Force." With continued growth in CPN, Langley-Finnegan and her team of more than 25 committed volunteers have a long and growing number of items on their agenda related to keeping CPN safe.
"Our mission on the task force is simple, but huge: to make CPN a safe place to live and work for all residents of the community" said Langley-Finnegan. "Nothing is more important than our community being a safe place for every adult and child. Tracking any criminal activity in CPN is a major focus of mine so that we can notify residents immediately by email alert when patterns occur."
In addition to her work in CPN, Langley-Finnegan is also a graduate of the 2006 Community Safety Volunteer (CSV) Program run by the Douglas County Sheriff's Office, and can often be seen at community events throughout the county. She also serves as a member of Sheriff Weaver's Public Safety Advisory Committee (PSAC), a group that represents residents and provides input to the Sheriff on various issues.
Langley-Finnegan also served on CPN's Election Commission, the governing body during the election to determine whether or not CPN would become a city. The commission reviewed policies and procedures for running an election, a painstaking process that took countless hours. Langley-Finnegan ultimately resigned her position on the commission toward the end of its work in order to run for city council in Ward 3.
A successful entrepreneur who has been operating her own executive search firm for 27 years, she specializes in placing CEOs in electric utilities nationwide. Langley-Finnegan took advantage of the flexibility of self-employment during the 16 years she spent caring for her mother full time, after she was no longer able to live on her own.
"She was amazing and taught me the true meaning of love and compassion for others. I miss her every day. My mom raised my brother and I alone after my dad passed away when he was only 46 years old. He was a deputy sheriff for the Wayne County Sheriff's Department in Dearborn, Michigan, where I grew up. Maybe that's where I get my love of law enforcement and public safety issues," she said.
Though it might seem that spare time is in short supply, Langley-Finnegan finds time to golf, spend time with good friends, knit and crochet, walk her three dogs, spend time with her cat and occasionally volunteer at the Buddy Center in Castle Rock. She loves to cook, entertain and enjoys home decorating. You may from time to time see her riding with Phil on the back of their Harley.