Metro District continues wastewater pipeline construction in open space
February 1, 2009
/
/
Comments Off

on Metro District continues wastewater pipeline construction in open space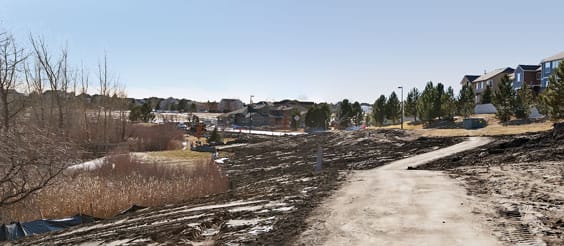 Construction continues in the open space area adjacent to Monarch Boulevard just across from StoneCroft. The CPN Metro District is conducting several upgrades to the wastewater system which delivers sewage to the Plum Creek Wastewater Authority in Castle Rock.
(photo by Tim Gamble)

Submitted by James McGrady, CPN Metro District Manager
Additional pipeline construction planned for Castle Pines Parkway
The Castle Pines North (CPN) Metro District is in the process of completing the installation of a 16-inch sanitary sewer force main that will transfer wastewater from CPN to the Plum Creek Wastewater Authority Treatment Plant, located on U.S. 85 in Castle Rock.
The portion of main currently being constructed in the North Open Space area adjacent to Monarch Boulevard (behind The Retreat) extends approximately 1,500 feet from Lift Station 3 to Castle Pines North Filing 29, known as the CC-20 parcel.
This critical piece of infrastructure will not only provide a redundant pipeline that parallels the existing 12-inch pipeline that is more than 25 years old, it will also reduce pumping costs at Lift Station 3.
During the next three months, the District will be redesigning the landscaping in the disturbed area to be as water efficient as possible while at the same time ensuring the area is aesthetically pleasing.
Because of the size, cost and complexity of this project, the District has been installing this pipeline in phases. The final phase of construction will be completed in 2009 and approximately 1,600 feet of pipeline will be installed along Castle Pines Parkway just west of Timber Trail Elementary School, to the intersection of Forest Park Drive and Castle Pines Parkway.
If you have any questions please contact James McGrady, District Manger, at 303-688-8550.