More than 200 Homes Take Part in Community Garage Sale
June 1, 2004
/
/
Comments Off

on More than 200 Homes Take Part in Community Garage Sale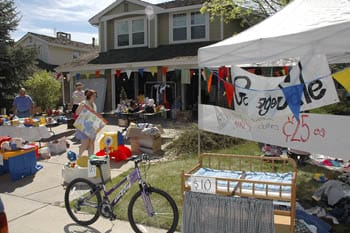 This must have been the year to clean house! Two hundred and seven Castle Pines North families signed up on the web site to participate in the annual Master Association-sponsored Community Garage Sale on May 21 and 22. Two days of pleasant weather added to the experience for both sellers and buyers.
With so many sales to choose from, many shoppers browsed from their cars before deciding whether to park or to move on. Others were even more efficient, such as the gentleman who called out from his moving vehicle, "Got golf clubs? Any golf clubs?"
Some chose a more leisurely method, strolling from house to house with coffee in hand, casually browsing among the goods while catching up with neighbors.
There were some serious shoppers, however. Tom and Linda Hay of Kings Crossing recalled how one woman considered a framed print that was labelled $10. "Would you take eight?" she asked. But before either Tom or Linda could respond, another shopper intervened. 'Sorry, that's sold," she declared while handing over ten dollars.
Another potential buyer gave the Hays an interesting craft idea that caused them to bring some of their wares back inside. "A woman said our old chairs [old but nice–one was an oak pressback, another bentwood] could be converted into flower pots," said Linda. "But she didn't like our price, so now we'll do that ourselves. Guess what my mother is getting for Christmas?"
The shopping continued on Sunday for those who attended the Prudential Preferred Real Estate charity sale. Don Bobeda reported that "lots of good stuff–almost too much!" was dropped off at the parking lot behind BankWest. Don is grateful for the five "angels" who came by later to assist the five-member crew in cleanup. He didn't get their names, but they were women who had shopped earlier and realized there was a lot of merchandise to organize and clean up.
Salvation Army trucks picked up whatever hadn't sold or been carted off by 9:00 p.m. that night. Bobeda would like to thank the generous neighbors of Castle Pines North and beyond who helped raise more than $3,500 for Sunshine Kids.