Nearly 900 students travel the world at after prom celebration
May 1, 2016
/
/
Comments Off

on Nearly 900 students travel the world at after prom celebration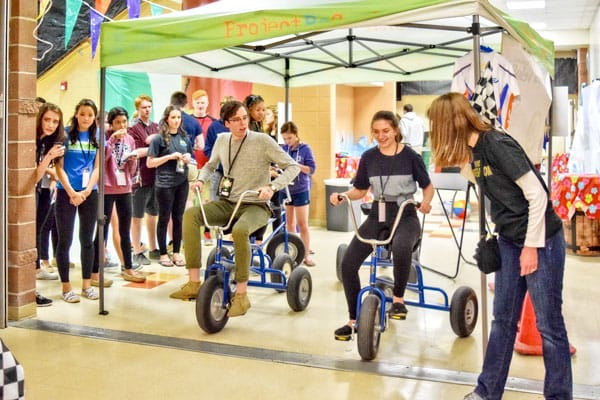 Noah Charvat and Emma Herskovits approach the starting line of the trike bike race at the RCHS after prom celebration.

By Christian Liley, RCHS writer for The Rock newspaper; photos courtesy of Julia Bartmann
After school ended on Friday April 8, students at Rock Canyon High School (RCHS) knew that over the next 24 hours, their school would be transformed into a whole new place for the after prom celebration.
At 11:30 p.m on Saturday, April 9, after hours of dancing at prom – which was held at the EXDO Event Center, close to 900 RCHS students arrived at the newly transformed school. This year's theme was "Jag Journey" and the entire school was decorated to look like different countries from around the world. Essentially, the school was split up and each activity area was decorated to look like a different country.
Fun was had by many students who attended after prom this year, such as Castle Pines Village resident and RCHS junior Emma Herskovits. This is Herskovits' second year attending after prom. "My favorite part was the theme and how each activity was decorated and brought into the country chosen," Herskovits said.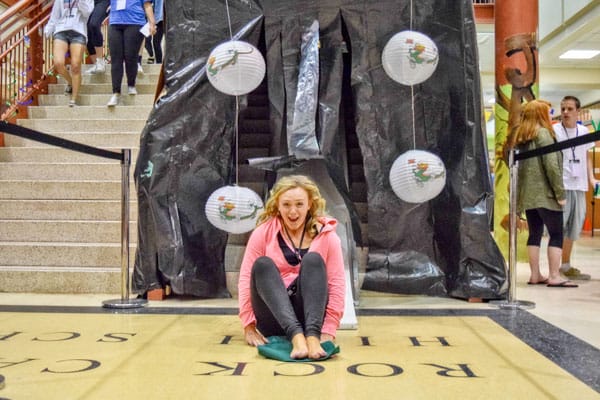 Tierra Terry laughs as she exits the giant slide, a RCHS after prom tradition, at the bottom of the grand staircase.
Students were able to enjoy massages at the Swedish spa; the commons turned into the USA food court and casino; the 2000s wing was decorated for a mini golf course; the gym turned into a carnival with carnival games and huge inflatables; and the auditorium stage became a life-sized game of Hungry Hungry Hippos.
"After prom exceeded my expectations first off with the free five minute massages because that was fantastic and then all of the prizes for the raffle were impeccable. But I'd have to say that my favorite activity was the carnival games because I won a teddy bear," Kings Crossing resident Kerry Adams said.
Students have been enjoying after prom for many years at RCHS, but according to Esperanza resident Molly Lane, this year's after prom went over the top with prizes, activities, and decorations.
"This year's after prom exceeded my expectations in multiple ways – I enjoyed the fact that mostly juniors and seniors attended, as it made after prom more exclusive. The games and prizes caught my attention first because 'who doesn't like prizes?' But I'd have to say that the coolest part was that they had TVs as prizes, free food, and a slide down the main stairs," Lane said.
Overall, this year's after prom took more than 200 volunteer hours, months of planning, and even student volunteers to take down everything on Sunday afternoon so that the school was ready for classes on Monday.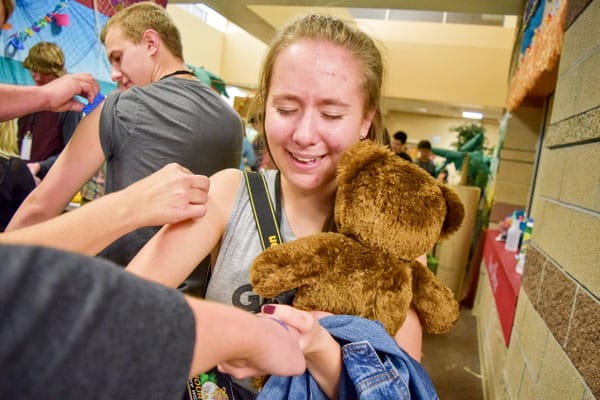 Delaney Castronovo embraces her newly-won teddy bear as she gets a temporary tattoo applied to her arm.