Neighbors pour it all into top-shelf business
May 1, 2013
/
/
Comments Off

on Neighbors pour it all into top-shelf business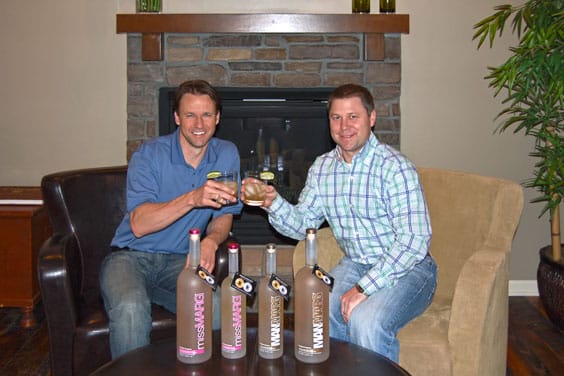 Rob Bohacs (left) and Mac Miller (right) are good friends and neighbors in Castle Pines Village who took a crazy Fourth of July whim and turned it into a successful business. Their products, ManMarg and MissMarg are ready-made margaritas which feature top-shelf Añejo tequila that they import from Mexico. Both products recently won awards at an international spirits competition and customers are now asking for them by name.
Article and photo by Amy Shanahan; graphic provided by Rob Bohacs and Mac Miller
It was the Fourth of July 2011. Two neighbors in Castle Pines Village were enjoying margaritas outside in the sun, and they decided to try something different. They mixed a new batch of margaritas but instead of the usual inexpensive tequila, they added a high-end, top-shelf variety. The taste overwhelmed them, and a company was born! Good friends Rob Bohacs and Mac Miller are full of humor as they explain the evolution of their company and where they are today.
Bohacs and Miller launched their two new products, ManMarg and MissMarg this past August, after fourteen months of extensive research, number crunching, taste tests, and old-fashioned hard work. Their products are the only ready-to-serve margaritas on the market that are made with top-shelf tequila. Additional ingredients are all top-of-the-line, including fresh key lime juice and agave nectar. "We believe your drink is only as good as your worst ingredient," remarked Miller.
Bohacs and Miller source their tequila from a well-respected vendor in Mexico. The Añejo tequila ages for twenty months in whiskey barrels, and the result is tequila with a pleasant aroma and a very smooth flavor profile. The friends believe this is the key to differentiating themselves from other margaritas on the market.
The smooth flavor is appealing to customers as well. Bohacs and Miller received a license to self-distribute in the beginning, and they spent countless hours at liquor stores throughout the metro Denver area conducting tastings with liquor store owners and customers. This time in front of the owners and customers allowed them to refine their sales approach and pricing strategies. ManMarg and MissMarg are priced higher than other ready-made margaritas on the market, but the difference in ingredients and thus taste, have won over store owners and customers alike.
This past summer, the friends entered the products into the Spirits International Prestige (SIP) Awards competition into the pre-mixed cocktails category. The judging was conducted by public consumers, and the competition included global companies. MissMarg won gold, and ManMarg won silver. "It's very rewarding seeing what came out of a July fourth idea," remarked Miller. "It's fun to see where we've gotten today with all of the hurdles."
ManMarg and MissMarg are both made with the finest of ingredients, but there is one small difference that defines each. ManMarg is 35-proof, while MissMarg is 24-proof. This results in fewer calories and a slightly sweeter taste in the MissMarg product, which appeals more to women. "Either way, our drinks taste like a freshly-made margarita in a bottle," stated Miller.
ManMarg and MissMarg is currently being sold in 25 stores, and the sales have given the company a proven track record, which appealed to distributors. Bohacs and Miller recently signed with a local Colorado distributor, and with three distributors from other states. "It was a big step to get the buy in from the distributors," remarked Bohacs. "The scalability is very exciting!" Distributors and liquor store owners also appreciate that this product represents a new niche in the margarita market since it truly is the only margarita made with top-shelf tequila.
Bohacs and Miller are very excited about the future of their company. Bohacs summed up their experiences over the last year and a half in a way that really speaks to the friendship of these two entrepreneurs. "Doing something you really enjoy doing with someone you really enjoy being with, makes for a really fun venture!"
ManMarg and MissMarg margaritas may be purchased locally at Castle Pines North Wine and Spirits, Bubbles, and Lukas Liquors. It is also served at Younique Wine Bar in Castle Pines, and at the Country Club of Castle Pines. For more information, visit www.man-marg.com or www.miss-marg.com.