New Bike Law – Three Feet to Pass
August 1, 2009
/
/
Comments Off

on New Bike Law – Three Feet to Pass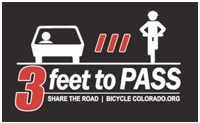 Colorado bicyclists are celebrating the new Bicycle Safety Act, which went into effect August 5. The new laws are geared to improve road safety for bicyclists and motorists, including a minimum 3 feet of space when passing a bicyclist.
The Bicycle Safety Act was made possible through the supportive grassroots efforts by Bicycle Colorado members. Thanks also to the bill sponsors, Senator Greg Brophy and Representative Michael Merrifield, all the co-sponsors, and Governor Bill Ritter for their leadership efforts.
Learn More about the New Law & What the New Law Means to Me
Better Laws for Bicyclists…
3 Feet: Enjoy Breathing Room: Bicyclists get at least 3 feet of space when motor vehicles pass.
Riding with Friends: Two bicyclists may ride side-by-side when clear, but please move to single-file to allow other vehicles to pass.
Be Safe, Be Seen: Ride as far right as is safe. But that doesn't mean riding in the gutter – riding in the right half of the lane often is the safest and most visible spot.
Go With the Flow: Bicyclists can ride to the far right or far left on a one-way street.
Better Laws for Motorists…
Keeping Traffic Moving: Enjoy more freedom to safely pass a bicyclist by crossing the centerline only when safe to do so.
Bicyclists Easier to See: A challenge for drivers is not seeing a bicyclist on the road.. The new law allows bicyclists to ride where motorists are already looking to adjust sooner and more safely.
Roads are Open for the Public: Bicycles are legal on public roads. Please treat everyone with respect. It is illegal to swerve at, buzz, or throw things at bicyclists.
For More Information:
email: contact by e-mail
phone: 303-417-1544
web: www.BicycleColorado.org