New Traffic Signal at Castle Pines Parkway and Lagae Road
October 1, 2008
/
/
Comments Off

on New Traffic Signal at Castle Pines Parkway and Lagae Road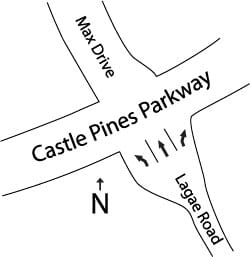 Information provided by Douglas County Traffic Engineer, Alex Larson:
I am writing to inform the City of CPN of two issues related to the construction of the traffic signal for the new Walgreens site at Castle Pines Parkway and Lagae.
1) A temporary sidewalk closure that has become necessary during the construction and
2) striping changes for NB Lagae traffic.
Beginning this week, the southeast corner of the intersection will be under construction for the removal of the old traffic signal pole, and the removal of the top part of its underground caisson. Following that work, new sidewalk will be installed. All this work should be completed by the end of next week.
During that time, the SE corner of CPP/Lagae and the sidewalks approaching the corner are closed temporarily to facilitate the construction and to protect pedestrians. Signs have been placed near the intersection to notify pedestrians and the crosswalk lights activated by the buttons at the traffic signal have been turned off. We certainly hope that the contractor will be able to beat the Friday estimate.
The roadway striping that has existed on NB Lagae approaching the signalized intersection will be changed by the contractor building the Walgreens. Per the approved construction plans, the double left turn lane will be changed to a single left lane. The former left turn lane will be converted to a "straight-through only" lane for NB traffic. As we all know, humans are creatures of habit, and the tendency for some will be to continue to make double turns. To avoid confusion later, we've taken this opportunity to draw attention to the change while the lane is not yet needed for the through traffic. The County has closed the right-most left-turn lane and placed an electronic message board that simply reads "NO DOUBLE LEFT TURNS". When the Walgreens site opens, the lane will also be re-opened as the new through lane.
If you have any questions about either of these issues, please contact me at 303 663-6238.