New Year brings changes to the Castle Pines Chamber staff
January 1, 2016
/
/
Comments Off

on New Year brings changes to the Castle Pines Chamber staff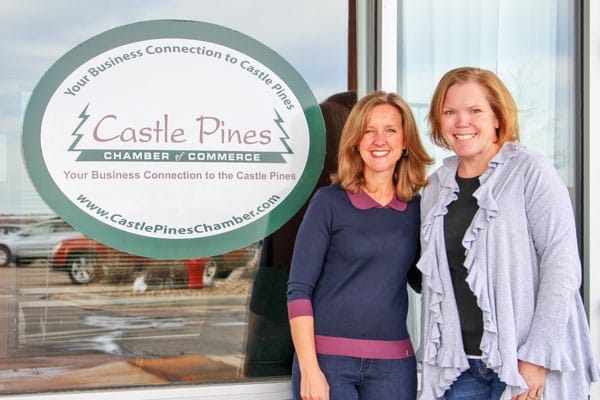 Congratulations to Castle Pines Chamber of Commerce staff members Amy Shanahan and Carla Kenny. Shanahan (left) joins the staff as membership director and Kenny (right) has been promoted to president.


Article and photo by Elean Gersack
The New Year brings change to the Castle Pines Chamber of Commerce. Former Vice President Carla Kenny has been promoted to president and Amy Shanahan joins her as membership director.
Kenny has been a dedicated and positive force for the Chamber over the years. According to incoming Chairman Greg Segal, the leadership at the Chamber has a distinct vision and has put forth a process to guarantee they are able to make good on this commitment. "Our first step was to promote Carla Kenny to president of our organization. Carla has been involved with the Chamber since its inception and is completely passionate about its success," said Segal.
The board tasked Kenny with finding an exceptional membership director to work alongside her. She quickly identified Amy Shanahan, a well-known and much-loved community member. Shanahan's charming personality, extensive community connections, and business acumen make the perfect recipe for ensuring the existing 200+ chamber members have the best experience possible. Shanahan will also help recruit new members and work on sponsorships and chamber events.
"We believe that Amy has the skill set and the vision required to take our commitment to our membership to the next level. We interviewed several applicants, and Amy's contagiously outgoing personality combined with her impressive track record of accomplishment in the arena of community service made our decision clear," shared Segal. "Amy lives in Castle Pines, is business savvy, and is clearly passionate about being a part of our efforts to ensure our city remains just the right balance of community and commerce."
Shanahan is eager about what lies ahead. "I'm excited for the opportunity that exists because Castle Pines is growing so much. The Chamber and its members have the opportunity to be very visible and help make the area even more vibrant."
According to Segal, the Chamber is set to embark on three goals for the New Year as identified by the executive committee: enhance the level of service and value delivered to membership; increase visibility in the community; and deepen the impact in the community.
"With change comes opportunity and we are really excited for 2016! Amy will be an added bonus," said Kenny.