American Academy principals accept students' book fair challenge
February 1, 2016
/
/
Comments Off

on American Academy principals accept students' book fair challenge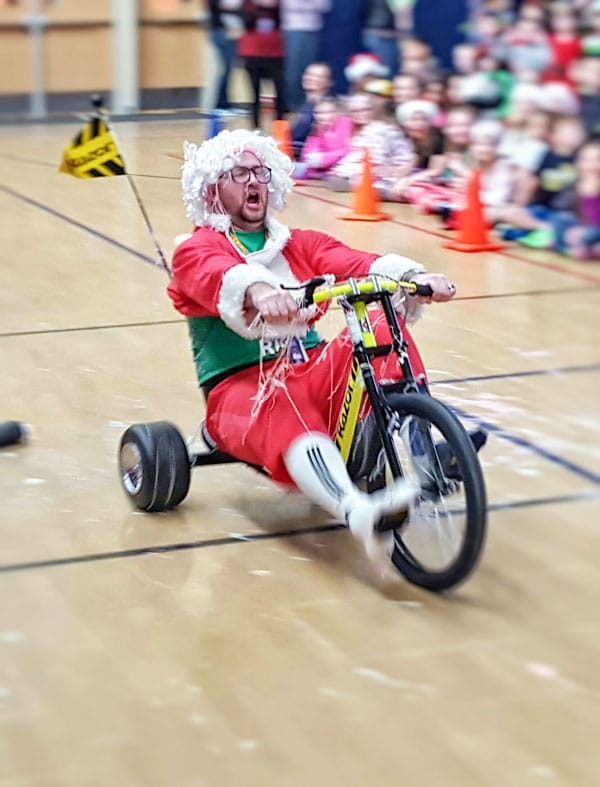 By Lynne Marsala Basche; photos courtesy of American Academy
With a theme of "What would you do to get your students to read?", the American Academy (AA) annual book fair kicked off with high expectations and an abundance of school spirit from beginning to end … especially the end.
AA students had a goal to purchase 4,000 books at this year's Scholastic Book Fair. The goal was for books only and did not include posters, bookmarks and other gift items also sold during the event. As an incentive for meeting the goal, students got to choose a friendly competition between principals.
Library assistant and competition organizer Angela Yu gathered the students' ideas. Would the two principals become human ice cream sundaes? Maybe they would be slimed. How about creating some fear factor-type contests? All ideas were written down, folded and put into a bucket for the principals to select their fate.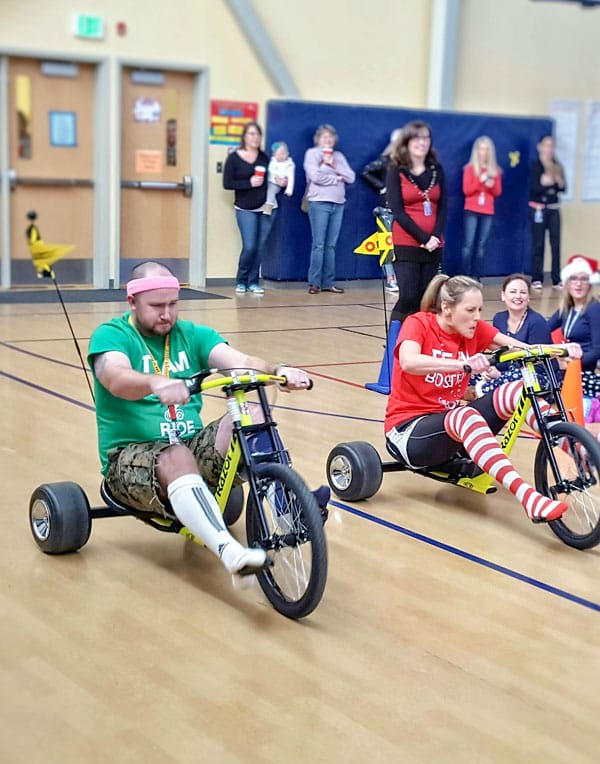 The selected student-approved stunt if 4,000 books were purchased was for AA's assistant principal at both the Castle Pines and Parker campuses Patrick Mangan and elementary principal at the Castle Pines campus Tami Bostick to ride tricycles around the gym and complete obstacles that were set up in each corner before they could continue the race. Not only would the winner receive bragging rights, but they would also get to splatter the loser with a whipped cream pie in the face.
As the book fair week progressed and suspense mounted, students were encouraged not only to buy books but also to read. Bostick explained, "Mr. Mangan and I had a blast with this event ourselves. But the best part was that all the effort and silliness was in service of something we all feel strongly about – literacy and reading. And it's my hope that the fun we had with this at school on these special days translates into a good feeling about reading at home all year long."
Book sales reached 4,500, which equates to $22,500. AA's library will receive 50 percent of that amount in "Scholastic Bucks," which is a Scholastic credit to spend on the library.
"We are so blessed to have such involved and invested principals and staff at American Academy! I'm so proud of the school spirit I see at these events, and I'm thrilled to watch our hard-working students having a ton of fun at school," said Erin Kane, executive director of AA.
Both Mangan and Bostick were spirited competitors and good sports when Mangan took a pie in the face from Bostick. As a twist and unbeknownst to the students, in addition to Team Mangan and Team Bostick, there was also Team Yu, and Yu gave the winner a pie in the face. The hilarity that ensued in AA's gym is not something students will soon forget.