New York native makes Castle Pines his home and brings a taste of his heritage with him
February 1, 2017
/
/
Comments Off

on New York native makes Castle Pines his home and brings a taste of his heritage with him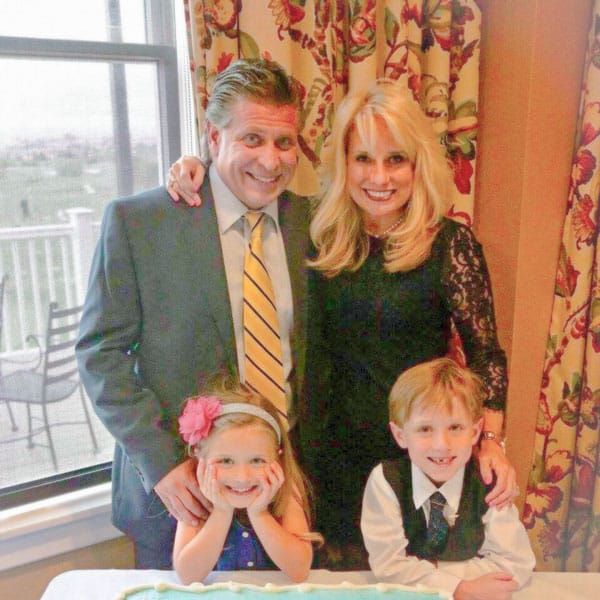 Joe and Allison Sabia at their home in Castle Pines Village along with their two children Christina (8) and Joey (9), who attend Buffalo Ridge Elementary school.

By Nancy Koontz; photos courtesy of the Sabia family
Castle Pines Village resident Joe Sabia came out of retirement (although he was a stay-at-home dad for a while) two years ago because he felt it was time for him to investigate new opportunities. His wife Allison is head of e-commerce for the global company Arrow Electronics, and they transferred to Colorado from New York around three years ago. They immediately chose Castle Pines as the perfect place to raise their family.
In addition to having worked as a senior finance and operations executive in the corporate world, Sabia was the former captain of the Commack Fire Department in Long Island, New York and a first responder on September 11, 2001. He is a strong advocate for all 9-11 first responders, as thousands are struggling with serious health issues stemming from that devastating day.
"Being a firefighter is not a job, it is a way of life. It is always a very sad day for every firefighter when it comes time to hang up your gear for the very last time. Thirty years was a great run, but it was my time to say goodbye."

Joe Sabia was the captain of the Commack Fire Department and a first responder on 9/11 along with his Long Island, New York firefighting team.
Sabia, with his passion for life and helping people, is an active member of our community. He is on the board of directors of Rollin' Dreams, a 501(c)(3) nonprofit foundation created to enrich the lives of teenagers with life-threatening illnesses such as cancer. Since moving to Castle Pines, Sabia has learned to relax and enjoy the best of Colorado. Some of his favorite past times include skiing, golfing and riding his Harley-Davidson with his friends.
According to Sabia, his Naples, Italy-born father came to New York as an immigrant looking to live the American Dream. He was an executive chef for more than 40 years, most notably at Mariner's Inn, a historic 400-seat Long Island waterfront mega restaurant. "I learned a lot about the restaurant business growing up watching my father; I think he would be very proud of me today."

Sabia and several members of the "tried and true" La Dolce Vita staff are ready to provide you with a wonderful dining experience.

Sabia recently purchased the long-standing Italian restaurant in the city of Castle Pines, La Dolce Vita. Sabia is in the process of decluttering, cleaning and streamlining the almost 14-year-old 80108 favorite and is planning a re-launch, which will add some lighter-fare grilled items such as seared tuna, steak and shrimp with an assortment of healthy grilled vegetables and more oak wood-fired pizza options.
Sabia confirmed, "Of course, we will still continue to offer many of the classic favorites." With more of a New York-style cuisine experience, there will be a new bar with innovative drink specialties and modern crafted cocktails along with an expanded happy hour menu.
With a list of 100 priority items, all of which Sabia deems number one, he feels that people are already noticing the positive changes being made to the restaurant. Sabia's vision is to continue to "move in the right direction" and make dining at the restaurant an even more memorable and "sweeter" experience than ever.