News from American Academy Charter School
December 1, 2006
/
/
Comments Off

on News from American Academy Charter School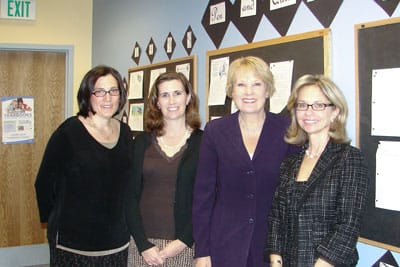 From the left: American Academy Board members Jackie Santos, Erin Kane, Lt. Governor Jane Norton, and CAO Roberta Harrell tour the school.


by Elean Gersack
Parent Volunteers Needed for Lunch Recess
Volunteers are needed to help with recess for first through eighth grades.
To sign up, e-mail Cindy Reagor at cindysuereagor@hotmail.com. Times and grades are as follows:
Grades 1 and 2:
11:30 a.m. – 12:15 p.m.
Grades 3 and 4:
12:15 p.m. – 1:00 p.m.
Grades 5 – 8:
1:00 p.m. – 1:45 p.m.
2007-2008
School Year Enrollment
Intent to Enroll forms for the 2007-2008 school year may be submitted any time before midnight, January 31, 2007.
Visit www.americanacademyk8.org to download a form or call 720-873-7395 for more information. Completed forms may be faxed to 720-873-7398.
The Intent to Enroll form places the student's name in American Academy's lottery and provides the school with family contact information. The Intent to Enroll form does not guarantee a spot at American Academy. For more information, please visit
www.americanacademyk8.org.
Parent Information Meetings
Parent Information Meetings (PIMs) are planned during the upcoming months. These meetings are designed to introduce parents of potential students to the school and its vision. The meetings will be hosted by the school's Chief Administrative Officer, Roberta Harrell, with a member of the Board of Directors in attendance whenever possible. Following each meeting will be a tour of the school by student ambassadors. The PIMs will take place at American Academy on the dates listed below. Anyone is welcome to attend.
Thursday, January 18, 2007 at 9 a.m.
Thursday, January 25, 2007 at 6 p.m.
Thursday, April 26, 2007 at 9 a.m.
Save the Date for the Spring Gala
A Night on Treasure Island –
Saturday, April 21, 2007
The American Academy Spring Gala will be held at the Marriott Denver South at Park Meadows. Parents can pick up donation forms or help contribute to the silent auction at the front desk. Need more information or have any questions? Please contact Mary Schroeder at mary@schroeder.com or Vivian Winston at vjwinston@comcast.net.
Safety Measures
American Academy has several safety and security measures currently in place. When visiting the school, volunteers and visitors will receive a volunteer badge. Anyone not displaying a badge will be asked to return to the front office. Parents and children should stay alert and report any person or situation that appears to be out of the ordinary to the front office.
Visit from Jane Norton, Lt. Governor
Jane Norton, Lt. Governor, visited American Academy to discuss the shortage of workforce in math, science and technology fields. When a fourth grader said that she wanted to be the first woman on Mars, Norton almost cried!
The Symphony Orchestra
Members of the Denver Symphony Orchestra and the Boulder Symphony Orchestra came to AA and presented "Inside the Orchestra." Students sat in the middle with the musicians seated in a circle around them and learned all about symphonies. When two students were chosen to conduct the orchestra, they were amazed to hear the musicians play faster and slower according to the motions.
Helicopter landing
The Broncos' mascot Miles, Miss Colorado and Miss Teen Colorado landed in a helicopter on the Word of Life Christian Center parking lot to join dancers from the Colorado Rapids, members of the National Guard and the drug enforcement agency to talk to students about the benefits of leading a drug-free life. This was in conjunction with Red Ribbon Week, a national celebration promoting the importance of a healthy and drug-free lifestyle.