Open house for seasoned learners
August 1, 2009
/
/
Comments Off

on Open house for seasoned learners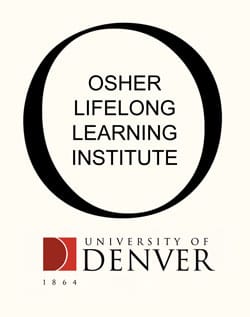 Information submitted by Osher Lifelong Learning Institute
An OLLI South Open House is scheduled for Tuesday, August 4, 10 am – noon at their south metro campus at Valley View Christian Church.
Designed for older and more "seasoned" learners (50 yrs+), the OLLI South daytime learning program is offered by the University College at the University of
Denver through funding from the Osher Lifelong Learning Institute (OLLI).
The 8-week terms (fall term begins September 15) provide participants with intellectual stimulation and the opportunity to examine new ideas and gain knowledge in the company of like-minded peers.
Nancy Chase, program coordinator for OLLI South, reported "We are excited to expand the OLLI program to the south metro area. OLLI members determine the classes that are offered and draw on their expertise and interests serving as both facilitators and learners. The diverse membership shares the desire to stay intellectually active."
The open house is an opportunity to learn more about the program, register for classes and meet OLLI members. For information, or to be added to the OLLI South database, contact Nancy Chase at 720-203-9708 or Contact by e-mail .
OLLI South Open House and classes: Valley View Christian Church, 11004 Wildfield Lane (4 miles south of US85 & C470 on the northeast corner of South Santa Fe Drive & Titan Parkway).
OLLI class registration begins August 2. To register online or for additional information on OLLI programs: www.universitycollege.du.edu/olli.
Tuition for the OLLI South program is $75/individual per term and includes the membership fee and participation in as many classes as desired.