Our 10th Anniversary Edition – The Connection Castle Pines
February 1, 2019
/
/
Comments Off

on Our 10th Anniversary Edition – The Connection Castle Pines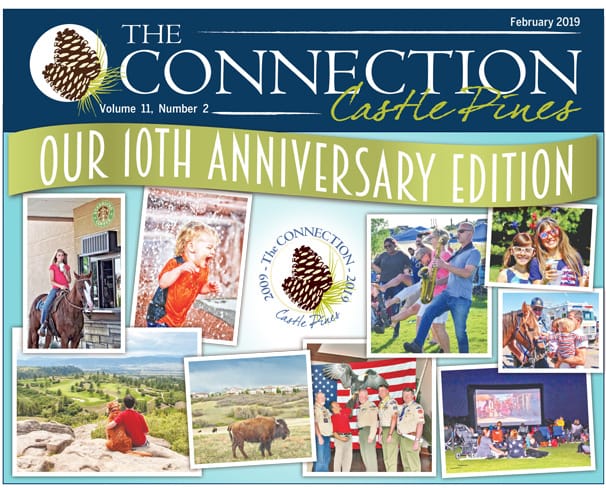 The Castle Pines Connection celebrates a decade of sharing "a little good news" with the 80108 community.
By Terri Wiebold; file photos
In February 2009, a new neighbor moved into the Castle Pines community. Long-time residents hoped that this new tenant would be friendly, honest and trustworthy; someone who honored their history, respected their privacy, and at the same time, showed interest in their families and their businesses. Someone who celebrated their successes alongside them, both personally and professionally. A caring and reliable neighbor; a friend.
The Castle Pines Connection has been honored to be a partner in the Castle Pines community these past 10 years. We hope we have been a good neighbor. You have opened your homes and your hearts and have allowed us the privilege of sharing your stories. We have laughed together and experienced growing pains together. We have become friends.
As we contemplated this milestone 10th anniversary issue of The Connection, our staff spent a lot of time going back through the roughly 5,000 stories we have covered and the more than 15,000 fun community photos we have captured and shared. Wow! What a special and unique place Castle Pines truly is; and what fun we've had together …
Remember the bookmobile (before the awesome library) and when Oktoberfest was held in the Safeway parking lot? And what about when there was deer hunting allowed on what is now Castle Pines Town Center? Do you recall all those community meetings "discussing" bringing a new fire station to CC-20 (now home to Legacy Village of Castle Pines)? And that annoying train whistle!? And who can forget the Celtic Crossing and the Barking Goat Tavern – both before Duke's Steakhouse rolled into town?
For those who may be newer to the community (and who may have no idea what I am talking about), we invite you to visit www.castlepinesconnection.com and take a virtual stroll down memory lane. Every issue of The Connection from the past decade is available in flip-book format under "Electronic Newspapers." From our humble beginnings as a black and white, bi-monthly newspaper to current day – all 155 issues! We couldn't have done any of it without you.
From The Castle Pines Connection family to yours, we hope you enjoy this reflective "then and now" anniversary issue. Thank you for your continued support and for being a welcoming neighbor and an active participant in your community newspaper.