Passenger rail options may be in the cards for Castle Pines
July 1, 2019
/
/
Comments Off

on Passenger rail options may be in the cards for Castle Pines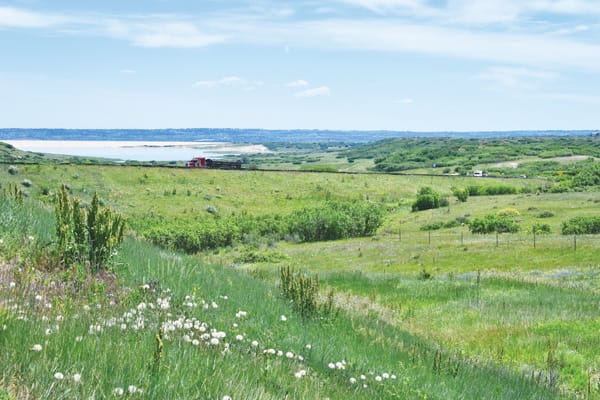 This area at the southeast intersection of Hess Road and I-25 is the potential location of a future 4-acre transit facility if rail-based transportation continues to Colorado Springs and Pueblo.
Article and photo by Kathy Fallert
The Southwest Chief & Front Range Passenger Rail Commission (Passenger Rail Commission) and the Colorado Department of Transportation (CDOT) are requesting proposals to study the feasibility of a passenger rail system linking Pueblo, Colorado Springs and Fort Collins to Denver. The options explored through the study will consider a range of technology alternatives for expanding transportation options along the Front Range to include the I-25 corridor.
"The Commission is excited to explore how passenger rail can bring sustainable and real congestion relief along our Front Range," said Passenger Rail Commission Chair Jill Gaebler. "As our population grows, the I-25 corridor will continue to be a vital link to our economy, moving people and goods while improving connectivity and allowing Colorado to flourish."
The way it sits now, there is a 100-foot easement to the east of I-25 from the northern border to the southern border of the new Canyons development to be used for possible rail-based transportation with a stop planned for Castle Rock.
Castle Pines City Manager Michael Penny commented, "We are excited about this possibility and will definitely work hard to get a stop in Castle Pines. This will be very advantageous for the City long term." The southeast corner of I-25 and Hess Road is slotted for a 4-acre parcel of land to be used as a transit facility, although there is currently no funding allocated to bring this to fruition.
The Front Range region is forecasted to grow from 4.9 million people in 2020 to 6.6 million people in 2045, which is a 35% increase in total population. Penny said, "We can't build ourselves out of congestion. An alternate mode of transportation would be welcome, and we are ready for it!"
The state will soon be initiating a review of several alternatives, at varying price points, in the interest of facilitating funding for the project. To learn more, visit www.codot.gov/about/southwest-chief-commission-front-range-passenger-rail.