Pine Canyon project reduced in scale, still undergoing revisions
August 1, 2018
/
/
Comments Off

on Pine Canyon project reduced in scale, still undergoing revisions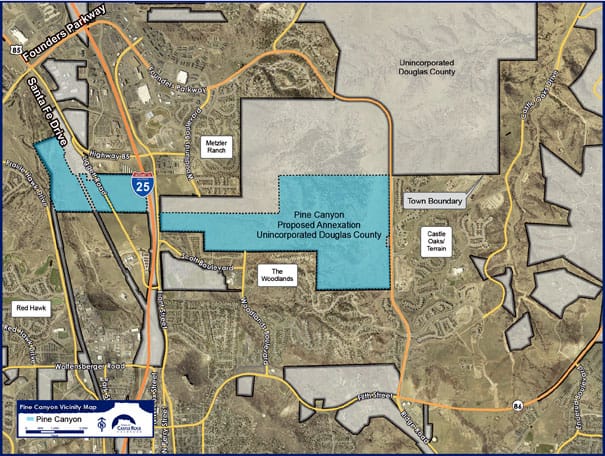 The Pine Canyon proposed annexation in Castle Rock could add more than 1,300 homes to the area.
By Daniel Williams; graphic courtesy of Town of Castle Rock
A substantial mixed-use development that could bring as many as 1,320 new homes to Castle Rock continues to go through an extended planning process, though a new round of revisions has considerably lightened its overall density.
The Pine Canyon project's developers, the Walker family, have been working with the Town of Castle Rock officials for more than a decade, addressing issues of size and scale. In 2013, they formally submitted an application to annex the 540-acre property into town services, a process which is initiated by property owners, but can take years to complete and is currently under staff review, according to Castle Rock officials.
"We did receive a letter from Jim Walker and we're preparing a response," said Bill Detweiler, Castle Rock director of development services. Detweiler added that ironing out issues with water resources and impact to transportation were of primary concern, along with keeping the forested area east of I-25 intact. "That east portion of the property is on a beautiful ridgeline that's heavily forested and the community wants to keep it open and available to the public with access to trails."
The two-segment property, located near Douglas County High School and Rock Park, between Founders Parkway and Scott Boulevard, is bisected by I-25. The project initially called for some 1,550 residential dwellings, spread between the two parcels.
Late last year, the town received a ninth revision of the project, with considerable changes to the overall scope, as well as provisions for more open space and potential park land as part of its newest proposal.
Pine Canyon's most recent iteration has reduced its overall unit count by 15 percent, with a cap of 1,320 single- and multi-family dwellings. According to the Walker family, density is still far less than what has been approved in the past for other nearby projects, with Pine Canyon's request of 2.4 dwelling units per acre far exceeded by the 3.9 units per acre found at Scott Ranch.
Overall non-residential space — retail, commercial spaces and industrial development — was also decreased by 45 percent in the most recent version of the proposal, down to 815,000 square feet from a previous request of 1.8 million square feet.
The developers continue to tout the property's four miles of trails and plans to devote nearly 35 percent of the overall development for parks, open space and other public lands, with 115.2 acres on the west portion and 74.5 acres on the east side. A total of 133 acres of open space are now included, five acres more than in the previous proposal.
Existing zoning provides allowances for single-family homes with lot sizes ranging from 2 to 35 acres, as well as schools and churches up to 350 seats. The requested annexation would provide access to town utilities and other services; changed zoning would also allow the developers to create a significantly more urbanized project.
Despite the extended amount of time Pine Canyon has been in the discussion phase, town officials say the planning process is consistent with other major projects in Castle Rock, especially given its size and its potential impact on traffic and other community services.
To learn more about the project, visit www.crgov.com/1912/Pine-Canyon-Proposal.