Polar Express magic … Believing is everything
February 1, 2010
/
/
Comments Off

on Polar Express magic … Believing is everything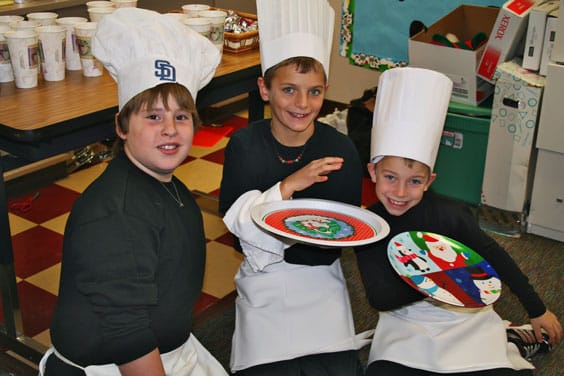 Left to right: Isaac, Brad and Mitchell, third graders from Mrs. Brester's class, get ready to serve up hot cocoa and chocolate during the production of The Polar Express on December 15.


Article and photo by Elean Gersack
Ah… the magic. The Polar Express is for those who truly believe. This holiday season, third graders at Buffalo Ridge Elementary cooked up some great fun on December 15 and 16 and helped make a family's dream come true.
Each year, third grade classes perform a Polar Express Reader's Theater show for various kindergarten, first grade, second grade and other third grade classes, soliciting pocket change for admittance to support a designated cause.
This year, the charity was the local chapter of the Children's Organ Transplant Association (COTA, www.cota.org) with one hundred percent of the proceeds going to a local family in need of dual liver and kidney transplants for both of their young children – Claire and Benson.
"We wanted our fundraiser to be local and had heard about this family through friends," said Karrie Brester, third grade teacher.
During a time when most families were already stretched thin financially, many would have thought that a few hundred dollars would be a stellar collection.
Well, imagine the reaction of teachers and students when more than $1,100 was raised. More than $900 was received in coins alone and the rest came via bills.
"I was hoping for $500 to $600. [It was] total amazement that we collected over $1100 – I had goose bumps! My kids were so excited they all cheered," said Brester.
That's not the best part … just two days later, the family received the best news possible. Claire, the one with the most critical need and who has been on the transplant list at The Mayo Clinic, had a new liver and kidney waiting. On December 18, she received both. Believing is everything.