Rachel's Challenge/Kindness is Contagious campaign at RCHS
January 1, 2017
/
/
Comments Off

on Rachel's Challenge/Kindness is Contagious campaign at RCHS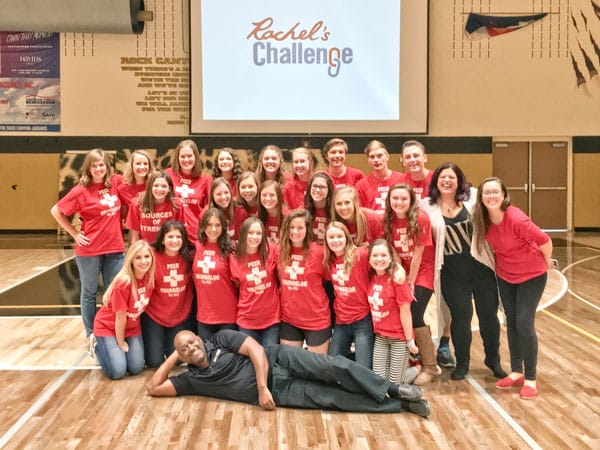 The peer counseling group at Rock Canyon High School poses with the Rachel's Challenge representative at the Kindness is Contagious campaign assembly in November.


By Sarah Bermingham, RCHS intern writer; photos courtesy of Marlaine McMechen
Rachel Joy Scott had a vision of a better world where people are kind to one another. She was a kind, compassionate girl who thought everyone deserved to be treated well. In one of her high school essays, Rachel explained, "Compassion is the greatest form of love humans have to offer … I have this theory that if one person can go out of their way to show compassion, then it will start a chain reaction of the same. People will never know how far a little kindness can go." Rachel was the first person to be killed in the Columbine High School shooting in 1999. While looking through Rachel's diary and school essays after her death, Rachel's family knew that her story must be shared with others, and Rachel's Challenge was born.
Rachel's story has promoted kindness in schools all over the United States. In November, Rock Canyon High School (RCHS) kicked off its "Kindness is Contagious" campaign. "We have had Rachel's Challenge come to RCHS three times over the years, and it has had a positive impact on students," said Marlaine McMechen, lead of the campaign. "Our hope is that it brings more mindfulness to how we are treating each other. If we aren't being our best, we can make a stronger effort together to be kind to one another." RCHS Principal Andrew Abner said, "I am excited to see what this looks like in action, and I believe it can have a very positive impact on our school climate."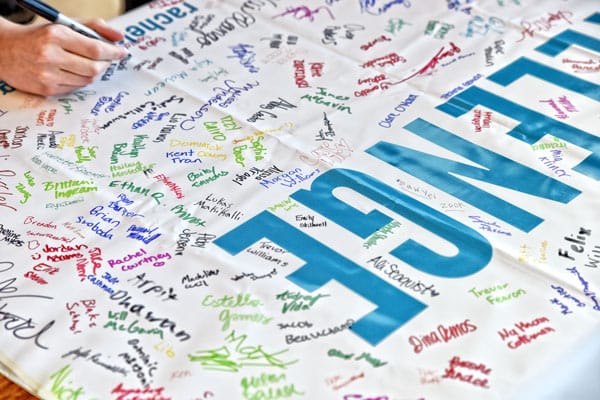 Students at Rock Canyon High School sign the Rachel's Challenge banner to pledge their support of the Kindness is Contagious campaign.
It is RCHS's goal to promote kindness throughout the school and help prevent bullying. "I think Rachel's Challenge has opened our eyes and has made us see everything differently," explained RCHS student and Castle Pines resident McKenna Quintana. Students and staff participate in monthly kindness activities until the end of the school year. Students are also awarded kindness bracelets when caught doing random acts of kindness. The bracelets can be passed to others a student sees doing something nice so good deeds are recognized and encouraged. Taylor Eubanks, RCHS student and Castle Pines resident, explained, "The campaign encourages us to be kind to one another. For example, if you see someone sitting alone, you should invite them to come sit with you."

To get involved, contact Marco Fields, parent liaison coordinator, at marcofields@yahoo.com or call 801-259-2522. For more information about Rachel's Challenge, visit www.rachelschallenge.org.