Railroad quiet zone; full steam ahead
May 1, 2011
/
/
Comments Off

on Railroad quiet zone; full steam ahead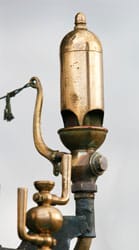 by Elizabeth Wood West
Castle Pines Village residents will soon be able to enjoy more peace and quiet and less unwanted train horn noise. Through the efforts of Village resident Don Somsky, Castle Pines Homes Association (CPHA), Castle Pines Metropolitan District (CPMD), and Douglas County, a partial railroad quiet zone is now being planned for implementation along a section of U.S. Highway 85.
The quiet zone will be approximately two miles long and will convert two of the five private crossings on U.S. Highway 85 into public crossings and then reconfigure them into partial quiet zones. Typical quiet zone hours (when there is no sounding of train horns) run from 10 p.m. to 7 a.m. However, the county will try to establish a 6 p.m. to 7 a.m. time frame. The two proposed public crossings will be located at the Plum Creek Regional Wastewater Treatment Facility access and the Cherokee Ranch farm access.
According to Douglas County engineering staff member Sean Owens, the railroad quiet zone will be a three-party intergovernmental agreement, with funding for the project broken down as follows: Douglas County will pay $100,000 for design, permitting, and management of the project, and will also agree to cover an estimated $10,000 to $20,000 in annual maintenance costs for the new public crossings; CPHA will pay $200,000 and Castle Pines Metropolitan District will pay $100,000 for construction costs.
Owens estimates that the design and permitting process for the partial quiet zone will begin the first part of May and take about one year to complete; actual construction for the public access improvements will follow thereafter and be finished in six months or less.
For more information, please call 303-660-7490 or visit www.douglas.co.us "Hot Topics," and click on "Railroad Crossing – Quiet Zone Study."