RCHS Cheer team takes state for second year in a row
January 1, 2015
/
/
Comments Off

on RCHS Cheer team takes state for second year in a row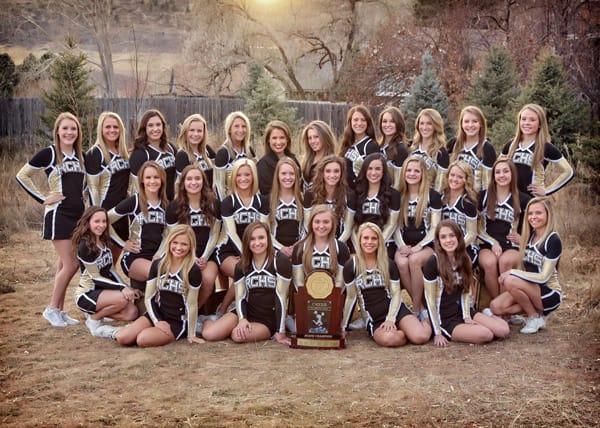 Varsity Cheer team roster: Seniors: Ariel Bailey (captain), Peyton Burger, Morgan Hildebrand, Rachel Moote, Caleigh Newberry, Paige Parrottino (captain), Hayley Pearson (captain), Caroline Skibness, Danelle Turnock, Darcy Vogt and Blair Whitworth. Juniors: Halie Balman, Ashley Bradley, Claudia Bradley, Lauren Fultz, Alisa Grossman, Mallory Happ, Megan Happ, Lily Lytle, Rachel Rothman and Lauren Shepherd. Sophomore: Schyler Geck. Freshmen: Elle Bailey, Ryan Burger and Julia Skibness. Team Manager: Britta Shafer. Unified Captains: Taylor Farnsworth and Jazmine Murphy.

By Lisa Nicklanovich; photo courtesy of RCHS Cheer team
The road to winning a 5A state championship is always long. The Rock Canyon High School (RCHS) Varsity Cheer team has worked hard to earn a repeat of their state championship win last year.

"For many of us, the hard work started years ago when we cheered or did gymnastics as younger girls. It was awesome to have so many parents, students, coaches and administrators from our community and school supporting us at state. We were able to feed off the energy of the crowd during our finals performance," stated Caroline Skibness, a senior at RCHS.
The state championship took place on December 5 at the Denver Coliseum. Hayley Pearson, a senior at RCHS and a team captain, said, "When we performed it was the best routine that we had ever done, but there was a small issue we thought we would get a deduction for. So, when we were announced the 5A state champions at the award ceremony, we were in total shock. The tears came but it was the best feeling in the world. Although we won, I think about how close the competition was and that makes us want to work harder for nationals."
Coach Amanda Mundaca, who won a coach of the year award, said, "Words cannot describe how proud I am of these 25 amazing athletes! Every day they come to practice with a fire in their hearts to be the best and I couldn't be more excited to see all their hard work pay off."
The RCHS Cheer team is truly a family with five sets of siblings which comprise ten of the 25 girls on the team. There are three sets of sisters that are senior/freshman and two sets of junior twins.
The RCHS Cheer team will be headed to Orlando, Florida in February to compete in nationals. The team came in third last year, so they are hoping to capture first place.