RCHS Military Wall of Honor recognizes military-bound grads
November 1, 2019
/
/
Comments Off

on RCHS Military Wall of Honor recognizes military-bound grads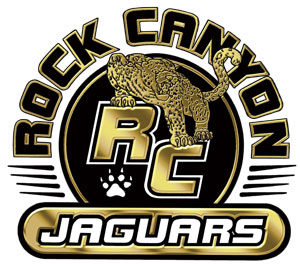 At Rock Canyon High School, graduates who serve in the military are honored with a plaque, made in the RCHS ACE print shop, on the Military Wall of Honor, which was created this past February.

Article and photo by Amanda Brauchler and Maddy Merritt, RCHS intern writers
Every year, November 11, Veterans Day, serves as a day to honor those who have served us. In 2018, Rock Canyon High School (RCHS) Principal Andy Abner, math teacher Deb Seaquist, and former Assistant Principal Barb Cocetti created the Military Wall of Honor to recognize all the graduating students who will serve in the military.
"I had long wanted to honor our graduates who enlisted in our nation's Armed Forces in a permanent way," Abner said. "I have had the pleasure to know most of the students on the wall of honor. They represent themselves, our school, and our country in a remarkable way."
As their class gift, the seniors of 2019 donated the expenses to cover the wall and the plaques. Each military-bound graduate earns a plaque displayed on the wall that runs along the main hallway of the school. ACE print shop at RCHS created and engraved these plaques.
"It's one of the cooler things that we take pride in making … this one seems to hit home a little more because it's military. Kids are sacrificing for their country," Kevin DeCristino, manager of ACE print shop said.
To create the plaques, a machine in ACE print shop carves the name of the student and his or her future branch of the military into the wood. DeCristino then paints those letters gold. Finally, he adds the submitted photo of the service member to the plaque.
The majority of the 34 plaques featured as of now were added in February when the wall was first created. The wall is continuously updated each year to add the new graduates who will pursue military service. DeCristino is in the process of putting up two new plaques right now.
RCHS 2019 graduates attending military academies are Isaac Abramovitz (Air Force), Logan Bakken (West Point), Josh Bullock (Merchant Marines), Turner Evans (Marines), Abigail Unsworth (Air Force ROTC).
"It's important that we have a military wall because it shows that people risk their lives for our country and our freedom," Chris Mason, 80108 resident and junior at RCHS said. Mason's father, George, served in the Navy as a pilot. "It's important to represent that because it's a lot of hard work and dedication."