RCHS spring sports – a season preview
April 1, 2009
/
/
Comments Off

on RCHS spring sports – a season preview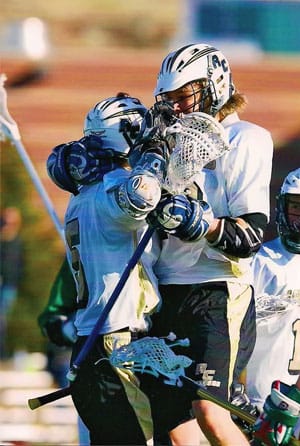 Rock Canyon lacrosse will be led by CPN residents Austin Fisher (left) and Kacy Carter, here celebrating a goal last season. (Photo by Kevin Williams)
by Scott Lasher
Every spring in Colorado, it seems as though when flowers should be blooming and birds ought to be chirping, the snow and cold of winter put a hold on anything resembling birds or flowers. It can also force high school athletes playing spring sports indoors for practice. This spring, a stroll through the athletic fields at Rock Canyon High School (RCHS) will find spring athletes hard at work – outdoors.
As the weather continues to heat up, so will the seasons of each sport. The Castle Pines Connection takes a look at some of the spring sports at RCHS and what to expect from some of the teams:
Boys Lacrosse
The 2009 season for the RCHS lacrosse team will be the second for head coach Louis Goldin, and coming off a 10-6 season in his first year as coach, Goldin is not going to fix what isn't broken.
"We really want to just continue on doing things the way we have been," Goldin said. "We don't set goals like 'make the playoffs' but we want to out-ground ball every team."
Goldin also said the team's success will be determined by the team's captain, senior defenseman Tyler Zabor, and his "cabinet members" Castle Pines North (CPN) residents Austin Fisher and Kacy Carter, both senior attackman, and senior defenseman Alex Zwink.
With several returning seniors and high expectations after a large step forward in Goldin's first year as coach last season, look for boys lacrosse to make some noise in the 4A state playoffs this year.
Tennis
Following a season that saw five seniors graduate, RCHS tennis coach Ashley Hunt said the young team she will lead this year will go only as far as they choose to.
"We had nine girls qualify for state last year, and this year we want everyone to qualify," Hunt said. "Everyone needs to believe in themselves."
Coach Hunt pointed to singles player Jennifer Mayo, and former doubles players Jaden Shoup and Cheyenne Bennett, who may play singles or doubles, all seniors, to lead the tennis squad this year.
Girls Soccer
The girl's soccer team at RCHS is entering its first season under head coach Mat Henbest this spring, but the coaching change is not putting any sort of ceiling on the goals he has set for the team.
"Our goal is to make it to state if we can qualify," Henbest said. "We have a good chance to have success this year. The team has been very open to the new coaching."
Senior and CPN resident Susie Wagstaff and junior Meghan Long will lead the Jags this season, both having been selected to Honorable Mention All-State and 2nd Team All-State last season, respectively.
Track and Field
The newness of spring has also brought a new group of athletes to the track and field team this year at Rock Canyon. With 25 to 30 new athletes going out for track, coach Stephen Schmitz is excited about what this season might hold.
"We are really trying to make track a team sport this season," Schmitz said. "We really want our freshman and sophomores to be able to score some points we might not expect them to."
Look for senior and CPN resident Brad Salus, who finished tenth in the state in the 100m last season, and senior Allison Forrester, who finished second in state in the high jump last year, to lead the track team.
With baseball, girl's lacrosse and girl's golf seasons also on tap this spring, the athletics schedule at Rock Canyon is full. Go to
www1.dcsdk12.org/secondary/rchs/redesign/index.php and click on athletics for game schedules for each sport.