Renowned Colorado photographer captures Castle Pines
December 1, 2016
/
/
Comments Off

on Renowned Colorado photographer captures Castle Pines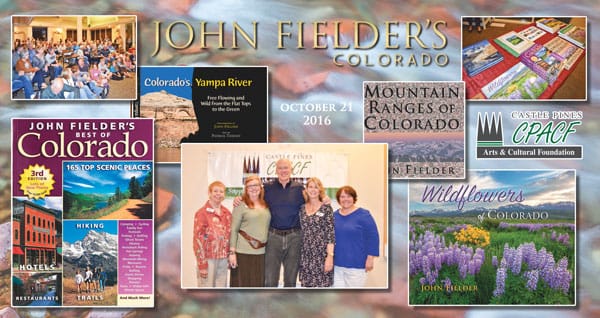 Castle Pines Arts & Cultural Foundation (CPACF) was honored to welcome celebrated photographer John Fielder to the community on October 21. Fielder presented 'Celebrating 100 years of Colorado's National Parks & Monuments' to an overflowing crowd at the Castle Pines Community Center. The CPACF runs purely on donations from the community at events like this to support their efforts to provide cultural opportunities for local youth.
By Elean Gersack; photos by Lynn Zahorik
Renowned Colorado photographer John Fielder joined Castle Pines residents on the evening of Friday, October 21 at the Castle Pines Community Center. The Castle Pines Arts & Cultural Foundation (CPACF) organized this captivating event.
It was a packed house full of those who have enjoyed Fielder's photography for decades – smitten with his work, his humbleness and his genuine love for the beauty in our state. Some younger enthusiasts joined as well.
Fielder's slide presentation, 'Celebrating 100 years of Colorado's National Parks & Monuments', took guests on a visual journey of Colorado rivers, castles, ruins, the most spectacular parts of Rocky Mountain National Park and more. Fielder has trekked thousands of miles by car, by foot and by raft over the years to capture the history and magnificence of our state. His work gives nature lovers, avid photographers, and anyone for whom Colorado is special a splendid view of the tranquility and enormity that surrounds.
Royal Hill resident Shelly Hengsteler and her husband celebrated their 27th wedding anniversary by attending the event. Her husband's company works with the National Park Service and has several John Fielder photographs in their office. "It sounded like something different. It was nice to have an event close by geared for grown-ups," shared Hengsteler. "Mr. Fielder gave an excellent presentation, was entertaining, and shared his exceptional photography," she added.
After the presentation, Fielder talked personally with guests as he signed copies of his books that span 40 years. "What a privilege it was to have John Fielder present with the CPACF here in Castle Pines. Board member Cheryl McGovern did a fantastic job of pulling the event together," shared CPACF board member Gaylynn Abram.
Vicky Kellen, another CPACF board member shared her gratitude for Fielder's generous donations from his book sales.
"Community donations and a generous amount based on book sales were dedicated to our organization. These funds will help to fund future events for both children and adults," shared Kellen.
To learn more about John Fielder, visit www.johnfielder.com. Save the date for the next CPACF event, Save the Music – Jazz, Wine & Eats on Friday, February 24. It will be in conjunction with the Colorado Chamber Orchestra and proceeds will support elementary instrumental music scholarships. Learn more at www.castlepinesarts.org.