Rock Canyon High School Celebrates Grand Opening
May 1, 2004
/
/
Comments Off

on Rock Canyon High School Celebrates Grand Opening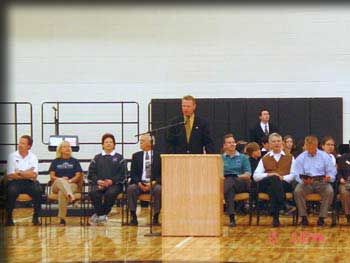 The new high school for CPN-area students, Rock Canyon High School, held its grand opening celebration on May 15.
To celebrate, the school began by hosting a "Spring Fest," which included games, contests, food, music, and other entertainment for the people of all ages who attended.
Following the Fest was a "banner cutting," and words from many notable individuals, including the school's very first class president.
The ceremony's guest speaker was the coach of the University of Denver's National Championship Hockey Team, George Gwozdecky, who gave an inspirational speech directed to the school's current and future students.
Attending the grand opening, which took place at the school's new building, were the principals from all feeding elementary and middle schools, Douglas County school administrators, and the district's superintendent.
The school will officially house its first students with the start of the Fall 2004 school year.
For more information on Rock Canyon High School, visit their web site at http://www.dcsdk12.org/secondary/rchs/.