Rock Slide Raises Thousands
December 1, 2008
/
/
Comments Off

on Rock Slide Raises Thousands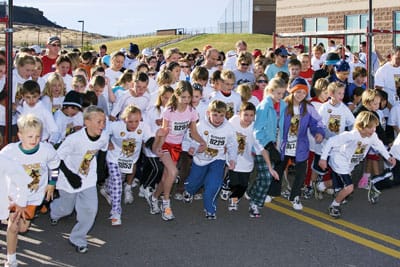 (photo by Tim Gamble)

On November 8, 896 runners and walkers hit the pavement at Rock Canyon High School to raise money for local schools during the 2008 Rock Slide.
The annual school 5K and one mile fundraiser brought together students, teachers, families, and friends from eight area schools including: American Academy Charter School, Buffalo Ridge Elementary, Timber Trail Elementary, DCS Montessori School, Redstone Elementary, Rock Canyon High School, Rocky Heights Middle School, and Wildcat Mountain Elementary.
The event raised thousands of dollars for local schools. (Final totals were not available at press time.) Buffalo Ridge Elementary (BRE) was awarded the top school award for having the highest percentage of participation and will receive an additional $1,000 bonus.
For the first time since Rock Slide's inception, the director of Rock Slide worked strictly as a volunteer which allowed more funds to be distributed to the schools.
Tony Golden of Highland Ranch coordinated Rock Slide this year and took no money for his efforts.
"I had a great time coorinating this event," said Golden. "I have always wanted to organize a race." Golden has plans to cooridnate a kids triathlon in the area this summer.
Immediately following the races, participants enjoyed a pancake breakfast sponsored by the Kiwanis Club of Castle Pines.
Countless volunteers and sponsors helped make the 2008 Rockslide possible. "I would really like to commend the volunteers from the Key Club, National Honor Society, and the Cross Country team at Rock Canyon High School," said Golden. "They were a great group that required little direction and took charge of their various tasks on race day.
According to Golden, the event would not have been a success without the generosity of the following sponsors: Bumgarner & Linn Orthodontics, Castle Pines Athletics, Colorado Kids Pediatric Dentistry, DCS Montessori School, IREA, Kiwanis Club of Castle Pines, Learning Rx, Miyama of Colorado, Pediatric Denticare, Perry Street Pediatrics, Premier Martial Arts, Safe Splash Swim School, Smiling Moose Deli, Starbucks Coffee, and Swim Labs Winners were awarded from each race and age group. A complete list of Rock Slide winners can be found at: http://www.dcrockslide.com/Results.php. To check out a photo collection of the event, provided by Tim Gamble, go to:
http://cpnhoa.org/pages/community/album/rockslide08/index.htm