Rollover Accident in Daniel's Gate Neighborhood Neighbors Express Concern Over Speeding Issues
October 1, 2008
/
/
Comments Off

on Rollover Accident in Daniel's Gate Neighborhood Neighbors Express Concern Over Speeding Issues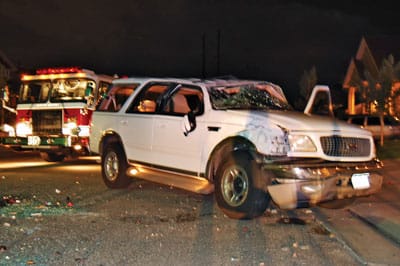 (photo provided by Tom Maxwell, Serena resident)

by Terri Wiebold
Speeding in the Serena neighborhood of Daniel's Gate has been a mounting problem for quite some time according to residents, but the recent rollover accident of this SUV on a quiet residential street has neighbors looking for help.
According to Douglas County Traffic Lieutenant Troy McCarty, speed was a contributing factor in a recent rollover accident, while other circumstances also added to the seriousness of the crash.
Many residents have come forward and expressed concern over the speeding and careless driving in the area, particularly on Serena Dive.
"The trouble is that we don't really see a speeding problem," said McCarty. According to McCarty, the DCSO Traffic Division has conducted two stealth stat studies for a three-to-five day duration each time, and have found that speeding is not consistently an issue.
The DCSO conducted the first study in July 2007 and the second study in August 2008 using both marked and unmarked vehicles, as well as traffic trailers. Of the 160 directed hits the DCSO received during the two tests, officers only issued seven citations for speeding, and ALL were issued to residents who live in the neighborhood.
Residents disagree about the speeding issue. One concerned mother wrote to the community leaders in CPN stating, "We have gotten to the point where our neighbors don't spend much time out front in fear of our children's safety. Please help us in providing safer streets for us to congregate."
Representatives from the Douglas County Sheriff's Office and Douglas County Public Works Engineering met with North Lynx HOA representatives, city council members, and concerned residents to discuss the situation and explore options for improvement.
The more than 20 residents who attended the community meeting agreed that there was not only a speeding problem, but that the topography of the steep hill and the two sharp curves were clearly a challenge as well.
Resident Darin Armbrecht said he recognizes that the DCSO's collection of data and the means by which it was collected may not be a completely accurate depiction of the situation on Serena, but the county and the Sheriff's Office have been extremely responsive in listening to residents' concerns. "I applaud their efforts to collect this data and appreciate the time they have all taken to meet with us and help offer solutions to the problem," said Armbrecht.
The neighbors of Serena will continue to work with the DCSO, Douglas County and city representatives to try to find a solution that works for the betterment of the community.