Running for Rylie's ARK (Acts of Random Kindness)
November 1, 2018
/
/
Comments Off

on Running for Rylie's ARK (Acts of Random Kindness)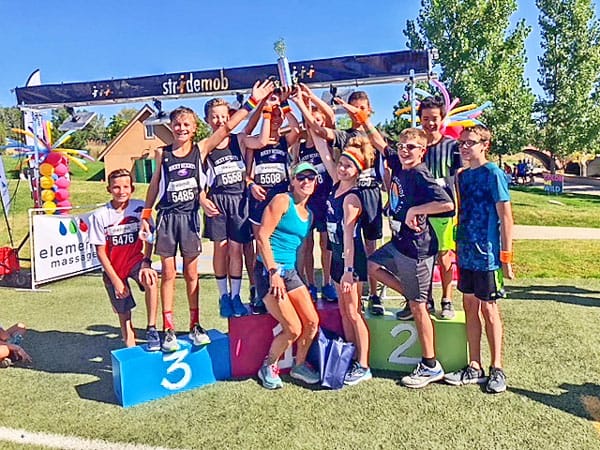 RHMS cross-country runners ran the Castle Pines Run Wild five-mile/5K race (from left to right): Kayden Glauser, Luka Schymik, Cale Maguire, Jessica Derickson, Julie Olsen (coach), Nico Wood, Drew Lukowski, Kendall DeFord, Nate Bolin, Logan Scheichenost and Logan Heppe.
By Ryan Miller, RHMS intern writer; photo courtesy of Jeffrey Smith
The City of Castle Pines is full of many wonderful excitements, from neighborhood barbecues to the thrill of paying the water bills at City Hall. On Sunday, September 16, many of the citizens of Castle Pines were off to the races; the Castle Pines Run Wild five-mile/5K race, to be exact. This race included a 5K course and a five-mile course that started at Elk Ridge Park, looped through Castle Pines and ended back where it started. Everyone was invited, but what stood out at this event were the middle school runners.
Although this race was not part of the regular season, Rocky Heights Middle School (RHMS) cross-country coach Julie Olsen brought as many of her cross-country runners as she could to take part in the 5K race. "One of the goals for this race was to get the most participation from all the middle schools," Olsen stated. And this is exactly what happened.
While many middle schools participated in the event, the RHMS Nighthawks had the highest number of participants with more than 20 students. RHMS won the participation and overall placement trophies for the race. Olsen placed second overall in the five-mile course. One thing that seemed to shock many was that despite having their district meet the Thursday before this race, so many RHMS runners decided to participate.
However, this race was not just about participation and placement. This event was held to spread recognition for Rylie's ARK, with all registration proceeds from the race going to the foundation. Rylie's ARK is an organization "committed to simple acts of kindness that result in a ripple effect," according to the website at www.ryliesark.org. The foundation was started in memory of Rylie Guentensberger, who passed away from a freak accident. Inspired by her zest for life and the kindness she always showed others, Rylie's family wanted to continue that legacy. Rylie's ARK hopes to "help individuals and families in times of need, sponsor scholarships to summer camps, pay sports fees and much more."
Rylie Guentensberger was an outstanding person of character and love. When that tragic accident happened, many people came forward to support the Guentensberger family. I knew Rylie's brother, Tanner; we played hockey within the same organization. I still have all the "Rally for Rylie" stickers on my helmet for all to see. To see that the City of Castle Pines cares and will put on events like these, brings all of us together even more than we were before. Students, teachers and parents of RHMS were excited to be able to raise awareness and show support for Rylie's ARK through this race.