Sanctuary Day Spa – Rejuvenate, Refresh, and Revitalize
January 1, 2008
/
/
Comments Off

on Sanctuary Day Spa – Rejuvenate, Refresh, and Revitalize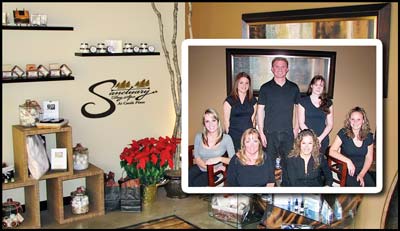 Article and photo by Terri Wiebold
After the hustle and bustle of the holidays, rejuvenate, refresh and revitalize at Castle Pines North's very own Sanctuary Day Spa, formerly Agave Massage Spa, nestled in the heart of downtown Castle Pines North.
"I am excited to let the community know how passionate I am about the transition of the spa," said owner and self-proclaimed "spa junkie" Lynn Pender. Pender said she chose this spa because it was close to home and incredibly relaxing, without being overly expensive. "I wanted to retain the elements already in place [like the fabulous staff] and enhance the services offered," she said.
Although the spa has been in business for four years, Pender and her team have made many exciting changes since taking over in December. The lobby and relaxation room now welcome guests with soothing warm colors and tranquil waterfalls, accompanied by elements from nature. Pender is featuring the complete "Sanitas" skin care line, and offers locally-made natural soaps and fragrant candles for sale.
The spa offers massage, waxing, sunless/airbrush tanning, professional skin care, revolutionary non-surgical facelifts and body lipo sculpting, oxygen plasma facials, and electro ionization treatments. Pender donates 10 percent of all net proceeds from the spa to local charities.
Pender said she is most excited about the new state-of-the-art treatments the spa is offering. Complimentary demonstrations of the signature treatments let the client see how dynamic the results are in one session. According to Pender, the oxygen/plasma treatment, which incorporates negative ionization, is one step beyond Microderm abrasion, Botox and chemical peels.
Sanctuary Day Spa is located in the Shoppes at Village Square and is open Monday through Thursday, 10 a.m. to 8 p.m., Friday and Saturday from 9 a.m. to 7 p.m., and Sunday from 10 a.m. to 6 p.m. Walk-ins are always welcome, or call for an appointment at 720-733-9700. Gift certificates and custom gift baskets are also available. To learn more, visit www.sanctuaryspacp.com.
"The wonderful part of owning a spa is that we make people feel great, either by providing a time to rejuvenate with massage or by enhancing their natural beauty with multiple body and skincare treatments." Lynn Pender, Spa Owner