Seating is served up with eagle scout's project
January 1, 2014
/
/
Comments Off

on Seating is served up with eagle scout's project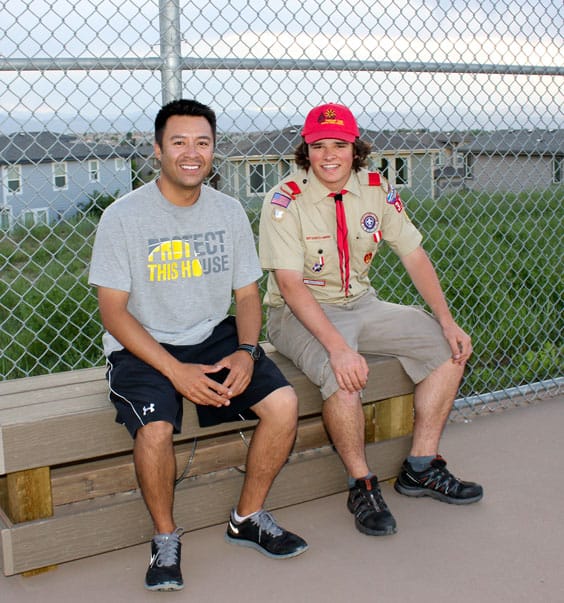 Rock Canyon High School's tennis coach Manuel Gonzalez (left) and Eagle Scout Eric Stopps sit on one of the five new benches Stopps constructed for the school.
By Elizabeth Wood West; photo courtesy of Brian Stopps
Castle Pines resident Eric Stopps has been in Boy Scouts of America (BSA) 11 out of his 17 years of life, and has been a member of Castle Pines Troop 316 for the past five years. His long-time commitment and dedication to BSA resulted in his recent advancement to the rank of eagle scout.
Stopps, a senior at Rock Canyon High School (RCHS), designed, built, and installed five court-side benches at RCHS's tennis courts for his eagle scout project. The benches will be used by the public for gym classes and tennis programs at RCHS.
Stopps chose to construct the five 6-foot long benches out of recycled composite decking material so they would be low maintenance and long-lasting. Stopps said, "The hardest part of the project was when to work on the project, as well as installing the benches because they were so heavy. I had plenty of willing-to-work volunteers and couldn't have asked for harder workers. It is rewarding to me personally to be able to use the benches and also see that they are being used by others."
Stopps said he has enjoyed many hikes, camp-outs, and outdoor activities during his years of scouting, but his favorite adventure was attending a "mountain man" camp-out. Stopps and other scouts were able to step back in time and eat, sleep, and live like mountain men at the highly-popular BSA annual event. "We lived like you would in the 1800's and were immersed in such a neat culture for a whole week," said Stopps.
Looking ahead to his future plans, Stopps said, "To be an eagle scout to me means that I have the strength and leadership skills I will need the rest of my life. After graduating from RCHS, I plan on attending the University of Northern Colorado and becoming a science teacher."