Seventh graders celebrate seven years together as a team
July 1, 2019
/
/
Comments Off

on Seventh graders celebrate seven years together as a team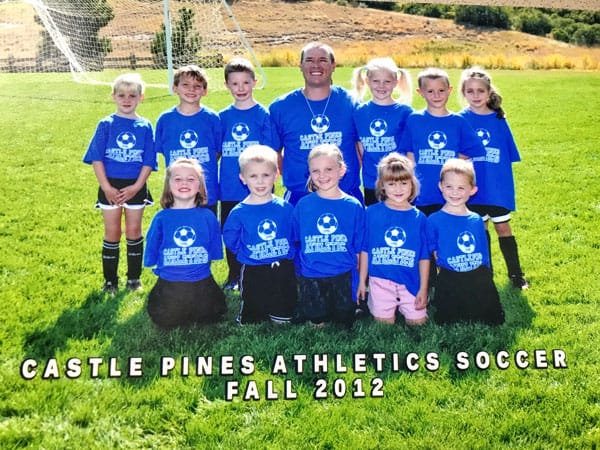 Kindergarten soccer "Team Blue" in 2012.
Community Super Bowl winners, 11-12 age bracket, fall 2018.

Article and photo by Celeste McNeil; photo courtesy of Imagetek
One youth football team in Castle Pines recently reflected on nearly a decade with the same coach and core group of boys. Coach Scott Miller has dedicated much of his free time to ensure that his children have had quality recreational sports opportunities. Miller has volunteered to coach two or three seasons (or more) every year. The team started playing soccer through Castle Pines Athletics when Miller's son was in kindergarten. Over the years, they switched to Storm soccer, Raptors basketball, Castle Pines Athletics flag football and most recently Grid Iron flag football.
Sports run deep for Miller, whose mother was a physical education teacher, and she passed on the love of physical activity to her sons – especially Scott. Miller has been active in organized sports his entire life, including playing soccer through college. Now, his passion is instilled in his children and their friends.
Four young players from the fall 2012 "Team Blue" still play for Miller. Several more joined over the years. The kids filled out and added height to their gangly boyish frames; this team has grown up together. They are entering seventh grade next month. Through it all, they have remained friends and comrades on and off the field.
The consistency of coaches (Miller and long-time assistant coaches Jeff Prewett and Bill Cates) and players have allowed this team to develop a mutual respect that runs deep. When you participate in a team with the same people two or three seasons a year, year after year, you can't help but develop a family-like relationship. Everyone feels it – players, coaches and parents. "We all have fun together and work hard together. We know everyone on the team has our back, always. It's like a family," said player Aiden M.
Consistency also allows coaches to mentor beyond basic sports skills. "This season especially, we've really preached brotherhood on the field" said Miller. Character development extends beyond their practices and games, and flows through to their conduct off the field too. Coaches and parents applauded the team recently for their consistent outstanding sportsmanship and respect for opposing teams, referees and one another.
No matter what happens in a game, this group of boys always shows courtesy and self-restraint. They demonstrate the same level of respect at home and school. "This is a great group of boys!" Miller said. The sentiment is echoed by everyone involved with this team.