SMFR Election Results Three New Board Members Elected
May 1, 2008
/
/
Comments Off

on SMFR Election Results Three New Board Members Elected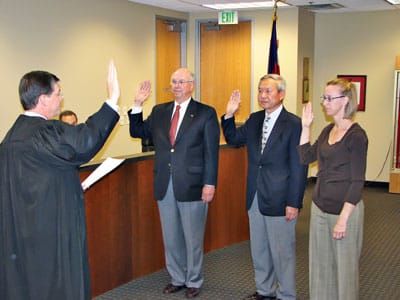 Arapahoe County Court Judge Christopher Cross swears in the newly-elected members of the SMFR Board of Directors on May 8, 2008. Left to right: David Jackson, Henry Eng, and Laura Simon. Photo by Terri Wiebold


by Terri Wiebold
South Metro Fire Rescue (SMFR) is a special taxing district established under Title 32 of the Colorado Revised Statutes. As such, it is governed by a publicly-elected five-member Board of Directors that is responsible for setting the tax rate and overseeing the department's finances. On May 6, a record setting 7,167 active registered voters in the SMFR service district area elected three new members to the SMFR board of directors.
Voters elected Centennial resident David Jackson into the two-year term position, and Castle Pines Village resident Laura Simon, and Henry Eng of unincorporated Douglas County, into the four-year term positions.
The new board members were sworn in on May 8, joining Peter Webb and William Schaefer (a Castle Pines North resident) on the board. Directors Webb, Simon and Eng were appointed to the new Fire Authority and Director Jackson was appointed as an alternate.
This election was of particular interest to residents in Castle Pines North (CPN) because, not only does SMFR provide emergency medical, fire suppression, and fire prevention services to the CPN community, but this new Board of Directors will have a direct impact on decisions made surrounding a new fire station in CPN.
The SMFR Board of Directors meets on the second Thursday of every month at 7 p.m. with semi-regular meetings on the fourth Thursday. Meetings are held at the South Metro Fire Rescue administrative building located at 9195 E. Mineral Avenue in Centennial and are open to the public. For more information about SMFR, visit www.southmetro.org.