SMFRA names new fire marshal
October 1, 2011
/
/
Comments Off

on SMFRA names new fire marshal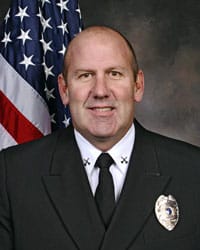 Kevin Milan
Information provided by Becky O'Guinn, SMFRA
A fire captain with a unique background in architecture, education, training, and firefighting has been selected as the new fire marshal for the South Metro Fire Rescue Authority. The appointment of Kevin Milan was announced September 21 by Assistant Chief Mike Dell'Orfano.
Milan, who currently serves as a captain in the Authority's training division, was picked from a field that included both internal and external candidates. "The opportunity to lead the SMFRA Life Safety Bureau is an incredible honor and privilege," says Milan. "I look forward to enhancing the exceptional partnerships forged with the communities we serve as fire marshal. Our staff of dedicated professionals protect life and property in our communities each and every day. I'm fortunate to couple a background in architecture, a love of teaching, and passion for firefighting in this position," Milan says.
In addition to Milan's "unique background," Chief Dell'Orfano says "we look forward to his enthusiasm for fire prevention and mitigation, and his dynamic leadership that will benefit both our organization and the communities we serve for years to come."
The fire marshal is responsible for fire investigations, construction plan reviews and inspections of new buildings, and fire code compliance inspections of existing commercial buildings.
Milan was previously the training chief for the City of Golden Fire Department (2001 to 2007). He holds a Master's Degree in Executive Fire Leadership and is pursuing a Ph.D. through Oklahoma State University. Milan takes over from Rob Geislinger, who retired earlier this year.