Smoke alarms and their life span
April 1, 2017
/
/
Comments Off

on Smoke alarms and their life span

"We thought our smoke alarms were keeping us safe …"
– PineRidge resident Barb Saenger

By Kathy Fallert; photo courtesy of Barb Saenger
There are few things in life more annoying than the chirping of a smoke alarm in your home, especially when it continues after the batteries have been replaced. PineRidge resident Barb Saenger experienced this recently and went on a mission to get to the bottom of the problem.
After visiting local South Metro Fire Rescue Station 36 in Castle Pines, Saenger learned that replacing the battery will not do any good and your trusty smoke detector will no longer detect any smoke if the sensor in the smoke alarm is past its life expectancy, which is shorter than one might think.
"Smoke alarms are a proven life-saving technology," said Einar Jensen, community risk reduction specialist for South Metro Fire Rescue. "Like with any technology though, they require proper care and maintenance."
According to the National Fire Protection Agency, it is required that smoke alarms be replaced within 10 years from the date of manufacture (which is printed on the back of all smoke alarms). Additionally, the manufacturer's instructions for most smoke alarms state they are to be replaced when they fail to respond or after 10 years, whichever comes first.
Saenger solicited the assistance of Brian Lindeman, a local firefighter who recently started a company to help homeowners navigate the sometimes complicated world of smoke alarms.
"The hardest part for homeowners is knowing what units to buy, where to put them, and who's going to do it," said Saenger. "Brian came to our house and replaced six smoke alarms – four photoelectric with lithium batteries and two with Nest Smart technology. He was knowledgeable, efficient and professional."
Lindeman held an informational meeting at the Castle Pines Community Center in March for Saenger and her neighbors to explain the differences between ionization and photoelectric smoke detectors, slow moving and fast moving fires and the response time for the alarms.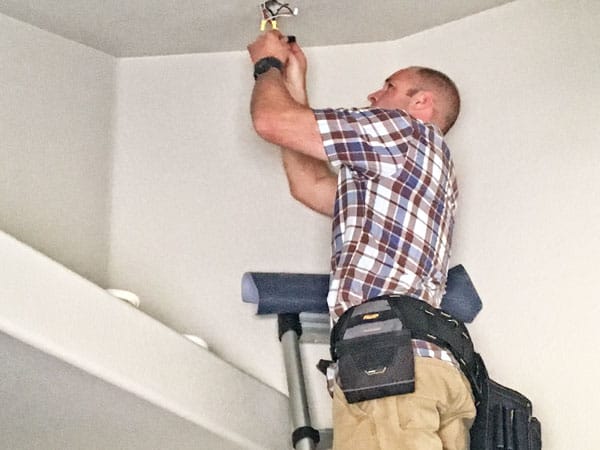 Brian Lindeman of Murphy's Ladder Company came to the home of Pine Ridge resident Barb Saenger and changed out all the smoke detectors in her home.
Saenger said that she had changed the batteries in her smoke detectors diligently every year and tested the alarms regularly. "We thought our smoke alarms were keeping us safe."
She continued, "My husband is so glad he doesn't have to get on that high ladder again!"
For more information about fire safety or smoke alarms, contact Jensen at Einar.Jensen@southmetro.org.