Something evil lurks in the RCHS production "Bad Seed"
October 1, 2011
/
/
Comments Off

on Something evil lurks in the RCHS production "Bad Seed"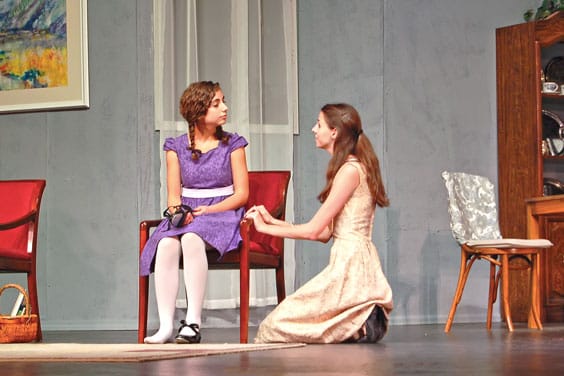 The character of Rhoda was played by sophomore Lauren Wearsch (left); the character of the mom, Christine was played by sophomore Quinn Kennedy.

Article by RCHS sophomore and drama student Rachel Zetwick with photo by Amy Shanahan
Rock Canyon High School students worked hard to put on a great show-and gave the audience some chills too! During the last weekend in September, the drama department performed "Bad Seed" based on the novel by William March. "What I looked forward to most about directing "Bad Seed" was trying to achieve the tension and chills that audiences enjoy," said Cindy Baker, the drama teacher at Rock Canyon, who also directed the play.
"Bad Seed" is set in the apartment complex of the Penmarks, where Christine and Kenneth live with their seemingly idyllic eight-year old daughter Rhoda, who does everything with unnatural calculation and perfection. Things begin to go awry as a young boy is drowned at the school picnic that Rhoda was attending.
As the plot unfolds, Christine, the mother, slowly discovers elements of her sordid past hidden from her at birth that may relate to Rhoda's cold exterior, until she finally discovers that her little girl was born without a conscience; she has no problem killing to get what she wants.
Other characters include the effusive nosy neighbor Monica, the shuddery janitor of the building, Leroy, and various criminologists and others who help Christine come to the conclusion that her daughter is evil, a bad seed from birth. This landmark play is significant for a high school to perform because of its macabre subject matter and controversial ending.
With more than sixty students who participated in the production, the show was a great success. Every detail, from costumes, set making, and the acting in this production proved that the hard work of these high school students, paid off.
Although "Bad Seed" is a difficult play, the RCHS kids managed very well. Between sports, homework, other extra-curricular activities and memorizing lines, high-school theater is difficult to manage for many, but the final bow made all of the effort worth it!