Southeast Light Rail Extension close to becoming a reality
August 30, 2014
/
/
Comments Off

on Southeast Light Rail Extension close to becoming a reality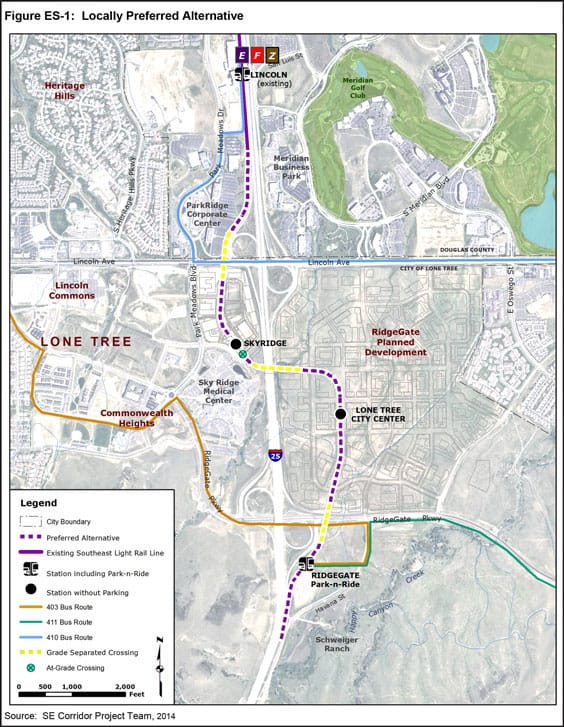 By Patte Smith; illustrations courtesy of Regional Transportation District
The Regional Transportation District (RTD) board of directors voted in July to move forward with a $207 million extension of the existing Southeast Light Rail Line in Douglas County. The vote was a key step in RTD's move efforts to receive federal funds for the project.
A commitment of $35 million to $40 million in cash from local funding partners including the City of Lone Tree, Douglas County, RidgeGate, and the Denver South Transportation Management Authority was a key factor in the RTD approval.
Coventry Development, the property owners of the RidgeGate development where the proposed rail extension will go, has also agreed to provide land for right-of-way and light rail stations at no cost. This local match would comprise 16.5 percent of the project cost and far exceeds the 2.5 percent match RTD has asked of its local partners. Of the project's total $207 million cost, RTD's investment would be $66 million, or about 32 percent.
"The approval from RTD to move forward with the Southeast Extension will directly benefit the residents of Lone Tree and the region," stated Lone Tree Mayor Jim Gunning.
"The expansion of light rail into Lone Tree will create more, accessible transportation options for employees, students and other commuters to and from Douglas County and the Southeast Metro area," noted Roger Partridge, Douglas County Commissioner and board chair.
The Southeast Extension line will add three more proposed stops south of the current Lincoln Station stop.
The first proposed new station south of Lincoln Station, the SkyRidge Station, located immediately northeast of SkyRidge Medical Center, will include a 400-foot side-side loading platform with a bus pull-out and a kiss-and-ride for rider drop-off and pick-up. No parking is planned for this station.
The Lone Tree City Center Station will be located on the east side of I-25 in the core of the RidgeGate Planned Development that includes high-intensity, mixed-use urban development that will include office, commercial, and residential land uses. The station platform will be 400 feet in length and will be designed for side-side loading. The station will not provide parking; however, it will include a kiss-and-ride and a bus stop.
A new end-of-line station is planned for the southeast corner of the I-25 and RidgeGate Parkway interchange. This station will include a 1,300 space park-n-ride for commuters. Additionally, the station design includes a 400-foot side-center loading platform and four saw-tooth bus bays for transfers between modes.
"We expect to hear if federal funding is approved in late 2015," stated Kristen Knoll, community outreach coordinator for the City of Lone Tree. "If approved, construction would start in 2016 with a projected finish date of 2019."
For more information about RTD Southeast Rail FasTracks visit www.rtd-fastracks.com. Click on the Southeast Rail Extension tab on the left side of the web page. The link to the most recent Southeast Rail Extension environmental assessment can be found there, as well as videos of the proposed light rail.