Wellspring Community reaches new levels in partnerships and support
September 1, 2014
/
/
Comments Off

on Wellspring Community reaches new levels in partnerships and support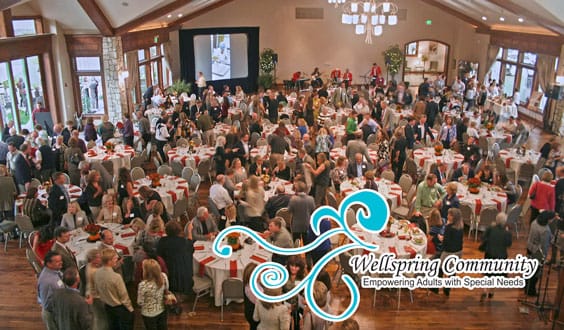 By Elizabeth Wood West
It is hard to imagine that only four years ago Wellspring Community (Wellspring) consisted of four young ladies with special needs sitting at a kitchen table and learning how to bake cookies with Wellspring's founder, Mary Lou Fenton. Today, Wellspring offers year-round work and enrichment programs, as well as social programs for nearly one hundred young special needs adults. Wellspring is a Christian non-profit organization dedicated to creating a work and residential community where adults with special needs can live full, productive, and satisfying lives.
Wellspring's goal for this year's annual "Evening of Inspiration" fundraiser was set at $100,000. The event, held at Cielo at Castle Pines, broke all attendance and fundraising records, resulting in donations of well more than $100,000. The popular fundraiser was sponsored by private individuals, businesses, and corporate donors, including Adolph Peterson Construction Company, Castle Rock Adventist Health Campus, IREA, Solera National Bank, Sunset Stone, and others.
A gourmet buffet dinner was provided by Tony's Market and attendees were treated to several musical selections sung by the Wellspring Wonders Choir. "We are absolutely thrilled with the outcome of our fourth annual fund-raising event! Wellspring continues to thrive because of the amazing support of this local community – not only financially, but through the involvement of local churches, businesses, organizations, and the countless, dedicated Wellspring volunteers," said Fenton.
Wellspring plans to use this year's donations to build a new space for its offices, programs, and a commercial kitchen for the Best Buddies Bakery. The bakery will now have a dedicated space at 826 Park Street in Castle Rock, in cooperation with Castle Oaks Covenant Church.
Best Buddies Bakery currently sells its signature baked goods to Tony's Market, Justice Way Café, and Solera National Bank, and is expanding its wholesale baking business in 2013. Best Buddies also sells its special dog biscuits to Animal Care Clinic of Castle Pines, Franktown Animal Clinic, and Wardle Feed and Pet Supply.
Wellspring recently expanded its enrichment program to include gardening. Castle Rock Adventist Health Campus has dedicated land for a community garden at its new medical facility and has asked Wellspring to be one of its partners for the project.
For more information about Wellspring Community, call 303-660-1935 or visit www.wellspringcommunityonline.org.