An Avalanche of golf at The Ridge at Castle Pines North
September 30, 2014
/
/
Comments Off

on An Avalanche of golf at The Ridge at Castle Pines North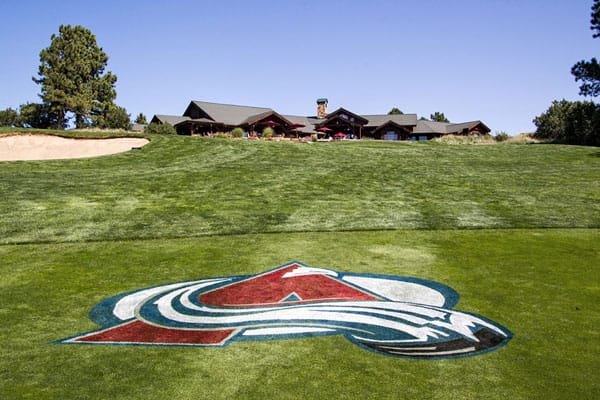 By Lynne Marsala Basche;
photos by Dave Tweed and courtesy of Michael Martin Photography
Before reporting for medical and physical tests and lacing up skates for training camp, the 2014 Avalanche players, coaches, and front office staff hosted the 18th Colorado Avalanche Charity Golf Classic (Golf Classic) at The Ridge at Castle Pines North (The Ridge).
On a brisk and sunny September day, hockey fans had the unique opportunity to play golf with 32 Avalanche personalities. Participants paid $1,000 per person to join one of 160 teams with an Avalanche player, coach or staff member and play at one of the foremost golf courses in the area, The Ridge.
The Golf Classic was a family affair for the Reece's of Castle Pines (pictured below in top center position), who have participated for the past seven years. "To have The Ridge literally in our backyard is incredible. Over the years, we've gotten to know the players, which adds another dimension to the game," said Gary Reece, who believes his family may be the biggest Avalanche fans out there.
Traditionally, the Golf Classic, which is the first event of the Avalanche's season, is held after training camp. This year, however, Coach Patrick Roy requested the event occur before training camp, and all the participating players reported for the season early to take part. According to Deb Dowling Canino, vice president of community relations and fan development for Kroenke Sports & Entertainment, having the players willingly start early exemplifies how committed they are to the community. "To start the season not only with the players but also the guests, is so exciting," said Dowling Canino.
In addition to fall being in the air, there was a sense of excitement for the upcoming season. "The Ridge is proud to be the official home of the Colorado Avalanche since the late 90s," said Zach Patterson, assistant golf professional. "The Colorado Avalanche Charity Golf Classic is something that we look forward to every single year. We are extremely privileged for the opportunity to partner with the Avalanche to help raise some significant charitable dollars."
Proceeds from the sold out Golf Classic benefitted Kroenke Sports Charities, which is committed to improving communities and lives through sports and education. Dowling Canino estimated the day's proceeds to reach $100,000, including participation fees, as well as hole sponsorships, contest holes and custom pin flags, which were purchased by participants and autographed by the player of their choice.
For information about Kroenke Sports & Entertainment or the Colorado Avalanche, visit http://avalanche.nhl.com. For information about The Ridge, visit http://playtheridge.com. To view all the photos from the event, visit http://davetweedphotography.com and http://www.michaelmartinphoto.com.