Castle Pines residents take part in national golf event
September 30, 2014
/
/
Comments Off

on Castle Pines residents take part in national golf event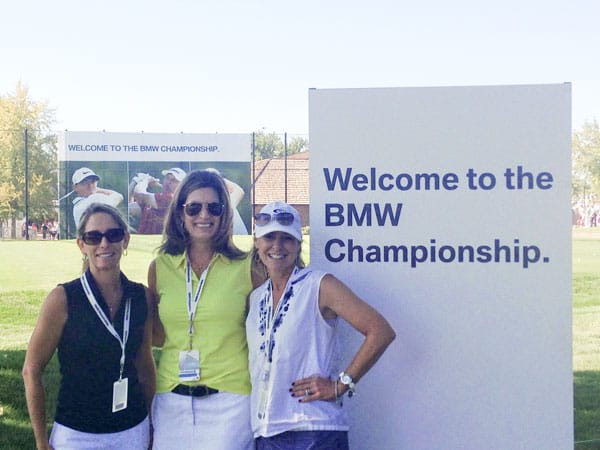 By Amy Shanahan; courtesy photos
The BMW Championship golf tournament was a huge draw for golf fans from all over Colorado and the world, and Castle Pines had its fair share of participation. Hundreds of residents spent time at Cherry Hills Country Club (CHCC) enjoying gorgeous weather and celebrity sightings of the world's best golfers, while Castle Pines resident John Ogden spend hundreds of hours preparing for the event.
The BMW Championship is the second oldest tournament in the United States and is the third of four events in the FedEx Cup Playoff. It not only provides spectators and players with the highest level of competitive golf, it also gives back to a wonderful scholarship program, the Evans Scholars Foundation (see related story in August issue of The Connection).
PGA Head Professional at CHCC John Ogden is a resident in Castle Pines, and he was honored to be a part of the "behind the scenes" action surrounding the event.
"The BMW Championship was an overwhelming success, and good for golf in Colorado and the Denver area," said Ogden. "BMW indicated they would very much like to come back in the future. Whether or not that happens would simply be up to the club membership, but clearly there is an incredible fan base here and the players loved being here and loved playing the course." He concluded by saying, "It was an amazing week and it was great having the PGA tour back in Colorado!" Ogden journaled daily during the tournament and his comments can be seen at www.denverpost.com.
The Castle Pines Connection reached out via social media and requested photos from those who attended the tournament, randomly selecting one participant to win a foursome of golf.
Congratulations to our winner Katherine Blakley, who was one of several members of The Country Club at Castle Pines to serve as a marshal during the tournament. Blakley said she thoroughly enjoyed her time at the event. "All of us who served as marshals on hole #14 knew each other, which made it so much fun." Blakley continued, "It was amazing to be so close to so many great golfers!"
To learn more about the BMW Championship, visit www.bmwchampionshipusa.com. To learn more about CHCC, visit www.chcc.com.