Student takes first place at Congressional Art Competition
June 1, 2017
/
/
Comments Off

on Student takes first place at Congressional Art Competition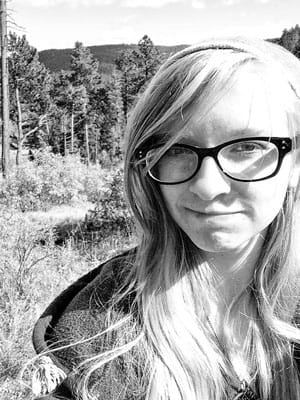 Kayla Inman, a Castle Pines resident and recent graduate of Rock Canyon High School, won first place at the America the Beautiful Congressional Art Competition.


By Lisa Nicklanovich; photos courtesy of Kayla Inman
Kayla Inman of Castle Pines took first place at the Fourth District's Congressional Art Competition, a nation-wide high school arts competition held each spring sponsored by members of the U.S. House of Representatives. The America the Beautiful Congressional Art Competition is an opportunity to recognize and encourage the artistic talent in the nation, as well as in our Congressional District.
Inman started drawing when she was 3 years old. Spyro, which is a video game about a little dragon who goes on adventures, is what sparked Inman's imagination to draw. "Since then, I've loved dragons and drawings and creating made-up worlds of all kinds. I love to make up things in my head and draw them, so I can show people what my imagination is like. I've always liked drawing on paper, but when I was about 8 years old, I got a drawing tablet for the computer, and since then I've fallen in love with the world of digital art and cartoons," Inman stated.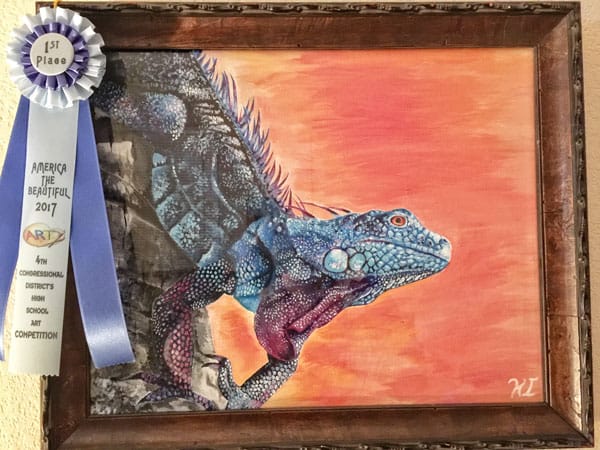 The first place winning art from the Fourth District's annual Congressional Art Competition, created by Kayla Inman, who used acrylic paint on canvas.
For the winning art piece, Inman used acrylic paint on canvas. Her concentration was reptiles and lizards because Inman finds their behavior intriguing and their history fascinating. The details Inman puts in her paintings definitely bring out the beauty in these creatures. Inman said, "I've always liked mythical creatures, especially dragons, and dinosaurs have always interested me. I find iguanas to be almost like living fossils, real dragons in a way, and I wanted to make that more prominent by adding bright, contrasting colors. The colors and technique I used really brought out the wonder in an animal that most people wouldn't think twice about, and perhaps this newfound interest is what inspired the judges to pick my painting for first place."
Inman enjoys creating cartoon drawings in addition to painting and has been drawing digitally for almost 10 years, having mastered programs like Photoshop, PaintTool SAI, and FireAlpaca. Video games still inspire Inman's drawings, especially adventure games. "I enjoy not just the type of game, but the universe in which it takes place, the game play, the art, the animation – it all inspires my art. One day I wish to make my own video game or cartoon and apply my artwork to something I'm already passionate about."
Inman plans to go to the Rocky Mountain College of Art and Design and hopes to continue to pursue her passion for game art and animation. For more information about Inman and her art, visit her website at www.stellardragonstudios.weebly.com/.