Summer Golf Camps Fun for All Ages
August 1, 2008
/
/
Comments Off

on Summer Golf Camps Fun for All Ages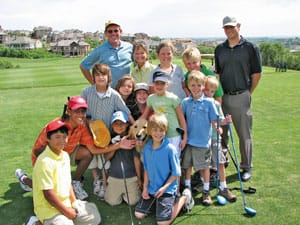 Castle Pines North youngsters gather around golden retriever "Ben Hogan Murray" – the camp mascot – to show enthusiasm for the sport of golf.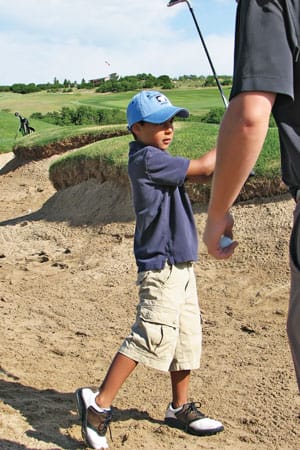 Daniel's Gate resident Elijah (7) perfects his sand shot from a bunker at The Ridge at Castle Pines North junior golf camp.


Article and photos by Terri Wiebold
Summer activities for youth often include trips to the swimming pool, Little League baseball games, and bike rides to the park. Kids in the Castle Pines North community could be found at a different location this summer – at the golf course!
The Ridge at Castle Pines North hosted a series of junior golf camps throughout the summer, providing instruction and fun activity for kids of all ages from Castle Pines North and surrounding communities.
PGA professional and Director of Instruction at The Ridge, Dennis Murray, started the program a few years ago after receiving multiple requests from parents in the community for such a resource.
"We want youngsters to learn the game of golf and realize the many benefits golf has to offer," said Murray. "Among other things, the sport teaches patience, humility, sportsmanship, integrity and compassion for others. Ultimately, though, we are all about having fun," he said.
Each camp ran three days, two hours each day. Beginners learned the basic fundamentals, rules and etiquette of golf. Intermediate and advanced players received specific practice routines and tips for continued improvement in all areas of the game. Regardless of skill level or prior experience, all are welcome and equipment is provided if needed at no additional cost.
"Golf is a life-long sport," said Murray's wife Gail, who assists with the camps. "It is something you can do independently, with friends, on vacation, in the business environment, and into your years as a senior citizen. It is fun for men and women alike."
For additional information about the junior camps, or to register for the one remaining camp this summer (August 12-14), please contact Dennis Murray at Contact by email or call 720-940-5007. Information is also available at www.playtheridge.com.