Summer sledding available; head to the sand dunes
July 1, 2013
/
/
Comments Off

on Summer sledding available; head to the sand dunes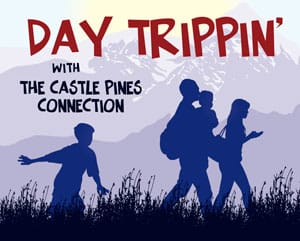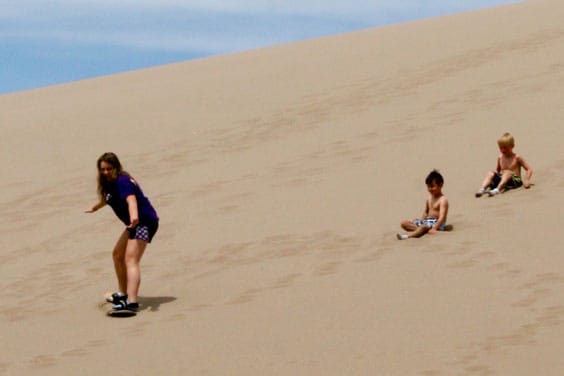 Sand sleds are available for rent in Alamosa in either kid size or adult size.

Article and photos by Kathy Dunker

Roughly four hours southwest of Castle Pines rests the tallest dunes in North America, also known as the Great Sand Dunes National Park and Preserve. At 750 feet high, the dunes are thought to be about 440,000 years old.
Medano Creek runs seasonally at the base of the dunes and is currently still running. It's great to be there with the creek flowing, as the temperatures get high in the summer. The wide and shallow beach-like environment of the creek mixing with the sand makes for a lot of fun with kids digging, splashing, and building sandcastles.
If you feel adventurous, sand sleds and sand boards are available for rent in Alamosa, about a 40-minute drive from the dunes. Be sure to wear socks as the sand gets hot enough to burn your feet. The best time to sled on the dunes is early morning before the heat sets in and before the afternoon wind kicks up.
Camping is available close to the sand dunes at Pinyon Flats Campground which is located within the park. More scenic camp spots are available along the Medano Pass Primitive Road, also within the park. The Primitive Road will take you to several picnic areas which are much closer to the base of the dunes and Medano Creek.
The Primitive Road is only accessible with four wheel drive vehicles, and it is highly recommended that air be let out of the tires to a level of 20 psi to avoid getting stuck in the sand. An air hose for refilling tires is available within the park, although it was out of service at the time of our visit in mid-June.
An additional campground that's worth checking out is called Zapata Falls. It's about 20 minutes away from the park's entrance off of a narrow, washboard road and has some nice campsites with trees. It is a short hike from the road to the base of Zapata Falls.
San Luis Lakes State Park, west of the park, is not a recommended destination this year.
If you're not up for camping, the Great Sand Dunes Lodge is close to the park's western entrance and has a restaurant within walking distance. For more information, visit the Great Sand Dunes National Park website at
www.nps.gov/grsa/index.htm.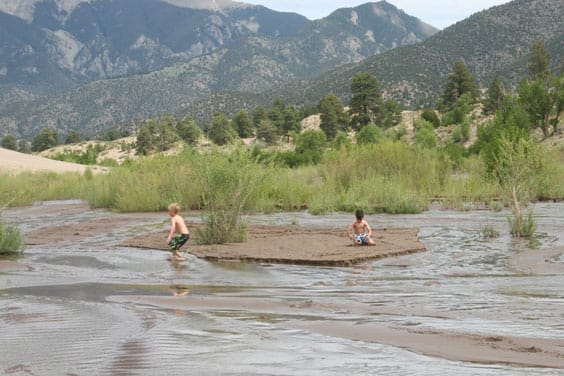 Medano Creek is still running and makes for a much more pleasant sand
dune experience. The water is a refreshing break from the hot sand and
is a fun place to play.