Task Force "birthday room" supplies the happy
February 1, 2014
/
/
Comments Off

on Task Force "birthday room" supplies the happy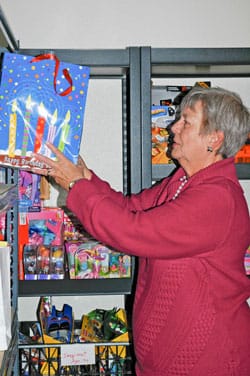 Douglas/Elbert Task Force volunteer Diana Stigleman stocks shelves in the "Birthday Room." The Task Force provides new toys to children in need who are celebrating a birthday.
Article and photo by Lisa Crockett
For a family struggling to make ends meet, a little food in the pantry and enough money to pay the utility bill are probably at the top of their wish list. For a child, however, those things likely pale in importance when compared to the thought of a birthday without presents. Luckily for families in need in Douglas County, the Douglas/Elbert Task Force is mindful of both.
Last year, the Task Force helped more than 14,000 clients and gave out a little more than $1 million in assistance. Most of that helped people meet their basic needs for food and shelter. But a little bit of it came from what many volunteers at the Task Force describe as the "happiest room in the building." That room, called "The Birthday Room" is home to hundreds of new toys, as well as the makings for a simple celebration – cake mix, frosting and candles.
Diana Stigleman volunteers at the Task Force on Tuesdays, greeting clients who come to the Task Force for assistance. When the need arises, she's also the one who gets to select birthday gifts for children from the Birthday Room.
"I've had parents in tears they are so grateful for something like this," said Stigleman. "I love being the one to 'shop' for the gifts. It's a lot of fun and so important for a child."
The room is filled to the brim with a variety of kid-friendly playthings like scooters, Barbie dolls, and action figures. Legos are so popular that Stigleman said they have a hard time keeping them on the shelves. Ditto for batteries – AA and AAA size – and gifts for older kids like craft kits and cosmetics. The Birthday Room is designed to grant simple birthday wishes for kids 12 and younger. The Task Force also keeps a supply of gift cards for older kids. Movie passes and haircut gift cards are at the top of the list for 'tweens and teens.
In addition to being eligible to receive presents for their own birthdays, children can also be provided with a single toy to give as a gift if they are invited to a party, an important part of being able to keep up with typical social interaction even in times of trouble.
"Part of what we look at when we offer assistance is the fact that Douglas [County] is a wealthy county and our clients don't have much," said Suzanne Greene, the Task Force's executive director. "Something like this balances things out just a little bit."
Volunteers at the Task Force have to be at least 15 years old, but gifts and birthday bags containing the makings of a birthday cake can be assembled by anyone and delivered to the Task Force.
"Assembling bags or collecting toys is a great thing for younger kids to do," said Greene.
The Douglas/Elbert Task Force is located at 1638 Park Street in Castle Rock. The Task Force's thrift store, Treasures on Park Street, is housed in the same building. For more information about the Douglas/Elbert Task Force, visit www.detaskforce.org.